Post by piguy3141 on Mar 16, 2017 1:23:47 GMT
The Slightly Less Affordable Supercar Event

April 15th, 2017 8:00 PM UTCYou'll need a bit more money this time around
In a time (well, about a month after the inaugural
Affordable Supercar Event
) where the supercars of yestermonth have all but diminshed from view, the supercars of today are still constricted by ridiculous speed limits, CO2 emission regulations, soaring prices, and worse performance. However, that doesn't stop us from putting on some
blatantly illegal
totally legal
street racing
track days, amirite? Right?!? This is the follow up to the Affordable Supercar Event, updated with new cars, a new track, and totes new experiences, confirming that you can still have some good bang for your buck action.
---
Track and Race Info
Track:
Gronnenheim Motopark
(
GtaRacing link
)
Laps: 25, including a pacer lap
Time: Current
Weather: Clear (Unless R* patch the weather option back in, in which case it will be
Current
)
Length: 50 minutes, not including grid set-up
---
Players and Cars
Racers: 27 (1 pitwatcher, 2 cameramen)
Teams: 9
Class: Supers
Cars:
Pegassi Zentorno
(GT1),
Banshee 900R
(GT2),
Progen GP1
(GT3)
Restrictions and Modifications: Bulletproof tires highly recommended. No off-road tires.
**60 FPS LOCK**
---
Time Table
Date: 15th of April
Pre-Race Lobby: 7:30 PM UTC
Race Lobby: 7:50 PM UTC
Race Start: 8:00-8:15 PM UTC (including grid set-up)
Race End: 8:50-9:05 PM UTC
---
Starting Procedure
Each GT will be set off at 10 second intervals. We will have the first lap of the race be a pace lap. No overtaking or actual racing allowed during this time. Race officially starts for each separate GT once the leader crosses the start/finish line. Grid will be randomly generated on
gtaracing.net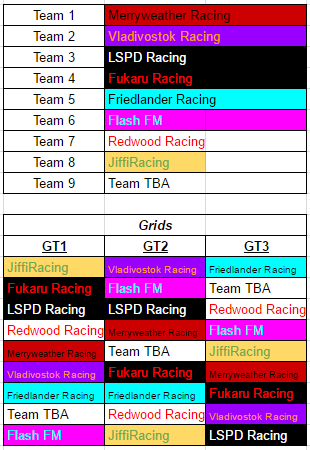 ---
Pitting
Enter the pit lane, come to a complete stop before the first wrenches for one second. Allow the pitwatcher to shoot your car once. You may then drive towards the pit lane exit. Since the pit exit is right before a turn, ensure that there is significant space between you and the driver approaching you or you have enough speed.
You must do 2 pit-stops at any time during the race
---
Ethics, Guidelines, and Rules
You will be racing against your own GT. Your performance against other GT's is irrelevant. Blue flags will be in play. If you are in a lower GT, you do not have to sacrifice a line to allow a higher GT to pass, but you may not actively defend against them.

Lag is an unfortunate event and is strongly recommended that, to protect the integrity of the race, that if someone calls you out for hitting them that you wait unless you are completely certain that you did not hit them even by lag. This applies to every player, not just racers in your GT.

You must be in the assigned Teamspeak server for the entirety of the race. You do not have to talk but it is highly encouraged.

It is understandable that there may be bad days for racing where you are not on your top form. But for the integrity of the race and your fellow teammates (and teams score in point tally), it is discouraged to rage quit mid session. It is simply bad sportsmanship.
---
Points System
The points system applies to each separate GT. The winner of the GT will receive the most points. The team with the most combined points by race end will be declared the event winner. That being said, this event is meant to be "fun" and while taking the race seriously is okay, do not become the event host (*cough cough*
piguy3141
*cough cough*) and overtly rage!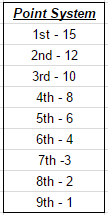 ---
Signups

To sign up as a TEAM
Team name (WITH COLORS)
Player's GT's (if you have open GT's, please list them!!!!)
To sign up as a FREE DRIVER...
Name:
GT of Choice (list all three in order of preference, first choice at top)
If you wish to sign up with a team, tag them in post
Free drivers that have not been recruited by the time signups are full will be drawn into random teams based on GT preference. That being said, there is a chance that you will NOT receive your GT of choice, so please be prepared for this!
Sign-ups will automatically close when the event is full. Any signups afterwards will be put on reserve. Reserves will be drawn on a first come, first serve basis.

---
RULES
Rule 1)
Absolutely no mods shall be installed. No Menyoo, Authority, or mod not listed or widely known. The issues with the 9F's are too problematic.
Rule 2)
Regarding ideal racing lines, it will be enforced that you are only allowed ONE curb boost per straight (no curb surfing). This shouldn't be too much of a problem considering most of the curb boosts available on the track are on corners and not straights.
Rule 3)
Since the track has a lot of wide areas to cut across the corners to get slightly more speed, you are only allowed to have TWO TIRES on the white track at any time. Exceptions are if you need to take a corner wide to avoid a massive crash, or waiting for someone you took out
Rule 4)
You are
never
allowed to enter the pit lane exit on the first corner to get the ideal racing lane into the first corner. Too problematic
Rule 5)
Absolutely zero rail grinding. I've had about a full half second sheered off my laps by grinding rails in specific spots. In addition, it can be unpredictable and cause a massive crash. Don't do it.
Punishments
First Warning is just a verbal warning
Second warning will be a verbal warning + ten second time penalty to final time
Third warning be a twenty second penalty to final time
Any further offenses will be immediate disqualifcation
---
Tech Signups
Pitwatcher:
.fiyah
Racers Signups (26/27)
Team 1: Merryweather Racing (Grace Red primary, Carbon Black secondary, Torino Red pearl, Blac
k Wheels)
Team 2:
Vladivostok Racing Team (Bright Purple Primary, Classic Orange Secondary, Orange Wheels)
Team 3:
LSPD Racing (Classic Black Primary, Classic White Secondary)
Team 4:
Fukaru Racing (Crew Red Primary, Frost White Seconary, Yellow Bird Rims
Team 5:
Friedlander Racing (Crew Turquoise Primary, Frost White Secondary, Frost White Wheels)
Team 6:
Flash FM (Classic Hot Pink Primary, Classic Ultra Blue Secondary, Yellow Wheels)
Team 7:
Redwood Racing (Classic Ice White Primary, Classic Red Secondary, Fluorscent Blue Wheels)
Team 8:
JiffiRacing (Classic Racing Yellow with Ice White Pearlescent, Classic Bright Green Secondary)
Team 9:
Dynasty 8 Motorsports (Metallica Frost White, Dew Yellow, Bright Green Pearlescent, Green Rims)
---
CONGRATULATIONS TO LSPD RACING
FriendlyBaron
(GT1),
Sarah
(GT2),
jawn
(GT3)