Post by FiveDownActual on Mar 21, 2017 20:58:14 GMT
Ruston Trackday Showdown
Date & Time: April 7th, 2017 @ 7:30pm UTC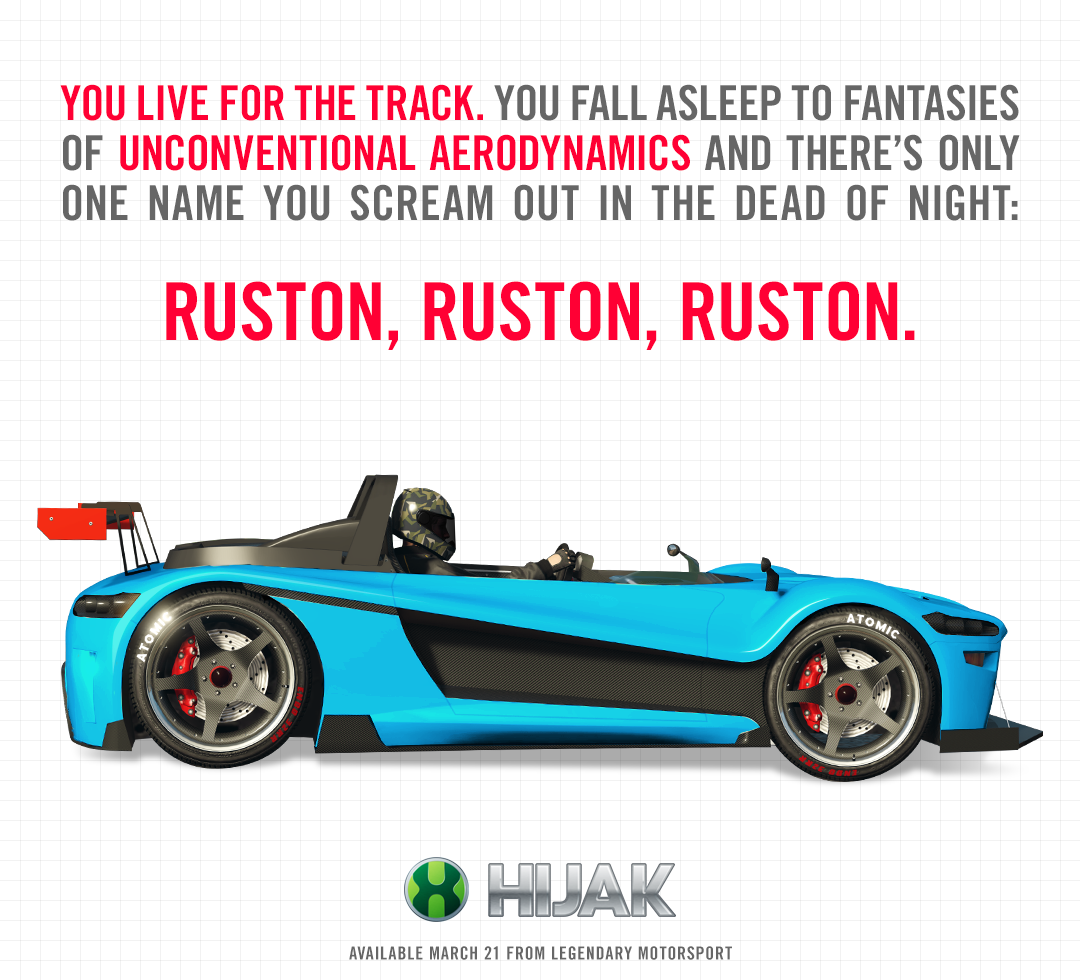 To Showcase Hijak's newest offering to those enthusiasts that want to pretend to themselves that they could have been the next Michael Schumacher if only they had taken a different path in life by flinging themselves into a 3-g corner surrounded by other like-minded individuals, there's really only one option.
Hijak has rented out this portion of Benefactor Speedway to give potential clients a taste of what their newest machine can do.
So how about it, are you up for the challenge?
Track/Race information:
Track:
Benefactor Speedway South
, by FiveDownActual
Laps
: 40 Laps (+1 Formation lap for 41 total)
Time
: Noon
Weather
: Current if Rockstar by some miracle fix weather before the day of the event, otherwise Clear
Race length
: 35 - 45 minutes
Class
: Sports
Cars
: Hijak Ruston
Restricted Modifications
: None
Timetable:
Date: Friday, April 7th
Pre-lobby: 6:45 pm UTC
Race-Lobby: 7:20 pm UTC
Race-Start: 7:30 pm UTC
Event end: 8:30 pm UTC at the latest

Start Procedure:
The Grid will be randomized approx. 24 hours before the start of the event.
The Start will be a double file rolling start behind the Pace Car
(yes, Pace Car. No car driven by me could ever be refereed to as "Safe")
Once the race lobby begins
the event host and pace car driver will take position at the end of the
back-straight, and will call on drivers to take up position behind the Pace Car. Once the field is formed the pace car will lead the pack to turn 11 (the right hander just before the final corner) and pull away from the speedway to take up position in the race control stand between turns 9 & 10. After the pace car is safely away from the racing surface, the event host will announce "Green, Green, Green" to signal the start of the race, overtaking will be allowed as soon as the signal is given.
There is no yellow flags, no mandatory pit stops.
Blue Flags may begin being used after completing 80% race distance (start of Lap 34)
Though there is no mandatory pit stops, a pit lane has been added behind the large blue wall on the exit of turn 9 in case you need repairs. You must follow the guideline as set at the end of the video above, come to a complete stop on the checkpoint,
THEN
then begin re-spawning. Take care of your fellow drivers on both entering and exiting the pits. Any unsafe entrance or exit from the pit lane that either causes contact, or forces a non-pitting driver to take avoiding action will garner a 15 second stop-and-go penalty to be observed within 3 laps after the infraction.
Final Results
Winner:
Sarah
of LSPD
Second place:
FriendlyBaron
of LSPD
Third place:
Bezerka3
of Augury Insurance Racing
Go Postal's Fastest Lap Award:
@zenvohh
(53.442 sec / 122.503 Kph)
of Augury Insurance Racing
A Huge thanks to everyone that participated. I hope you all enjoyed it as much as i did.
Stay tuned for more events from me coming Soon™