Post by Jiros on Oct 5, 2017 20:55:53 GMT
[XB1] The "Downtown Cabs Co." Vans Endurance Race
Saturday 11th November 2017, 19:00 UTC
PIT WATCHER NEEDED - PLEASE POST IN THREAD IF YOU ARE AVAILABLE TO PIT WATCH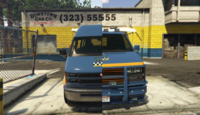 Here at Downtown Cabs Co. we are always looking for ways to spread the message that we are the only cab company in Los Santos that will provide you with below-average taxi journeys for an above-average price... wait, that's not right, is it? Anyway, to do this, we are very proud to announce the Downtown Cabs Co. Vans Endurance Race, a one-off event where we will be pitting off the best young racers are on offer to show that vehicles to do with cabs don't have to be too slow (we're a cab company: what did you expect? Super cars?). This is a one-off endurance event where the driver can choose one of two vans listed below to compete in a prestigious 1hr competition to find out whether you've really got what it takes to be the ultimate Downtown Cabs Co. Van driver.
Track/Race information:
Track:
Xero Gas Stadium
(Creator: Rhin0134)
Laps
: TBD
Time
: Current
Weather
: Clear
Race length
: 1 hour
Pits
: TBD (if no pit watcher is available then there won't be any mandatory pit stops)
Class
: Vans
Cars
: GT1: Bison
GT2: Youga
Customs
: On
Restricted Modifications
: No neons, only use chosen team colours (see "Extra Information")
Timetable:
Date
: Saturday 11th November 2017
Pre-race lobby*:
18:30 UTC
Race lobby:
18:50 UTC
Race start:
19:00 UTC
Race end:
20:00 UTC
Start Procedure:
Cars will be ordered randomly on the grid in their
respective
GTs (the random order will be determined beforehand), with there being a gap between the last GT1 and the first GT2.

*If there is enough people in the pre-race lobby, we will be doing a meet-up at the top floor of the LSIA parking garage. Please turn up in the vehicle you'll be using (either the Bison or the Youga, obviously). Once you are there, please line up in your teams. If there isn't enough people in the pre-lobby, we just won't bother.
If there is a pit watcher available, there will be two different sticky bomb explosions (the sticky bombs will be places and exploded by the pit-watcher or by me if there is no pit-watcher available), the first for the GT1s and the second for the GT2s. There will be a 10-15 second delay between the two. If there is no pit watcher available, both GTs will start on the same explosion.
Pitting procedure:
Pitting in:
a) Don't follow anyone too closely through the first corner.
b) If you are planning on pitting and someone is close behind you when coming down the start/finish straight towards the first corner, flash your lights as much as possible, toot your horn loads, or get on the mic if you have one just so that the person following is aware of your intentions to pit and adjust their positioning accordingly.

Pitting out:
a) If a driver is going past the pit line while you are exiting, you must keep to the left lane (off the racing line) until the right lane is clear. Do not just immediately pull over to the right lane (racing line)!
b) If you are passing the pit lane and someone is trying to exit, you must keep to the right line (on the racing line) to allow the pitted driver to exit cleanly.

PIT WATCHER NEEDED (please post in the thread if you would like to pit watch)
Extra information:
If you feel like there had been an unfair or illegal overtake or move done on you, please record it. Action will not be taken unless there is recorded evidence of the incident.

This is a teams race so please choose a team you would like to represent. There will be one driver for each of the GTs in each team. If there are one-person teams near the start of the race, drivers from different teams will be merged (they will have to decide for themselves which of the two teams they would like to represent for). There will be a teams competition as well as the competition between each of the drivers. Please stick to your chosen team's colour schemes.
Signups: