Post by G.L.E.N on Oct 24, 2017 22:29:53 GMT

Block Fort Battle
Next: 20/02/2018 @ 06:30 PM UTC

Every 3rd Tuesday of each month
Arena/Battle information:
Arena:
Block Fort
by
G.L.E.N
Time
: Noon
Rounds
: 3x 30 minutes rounds with 5 minutes brakes:
Sports Classic: no restrictions

Off-Road: Bifta only

Muscles: Duke of deaths only

Customs:
No! Stock cars only
Team colors:
Red, Race Yellow, Bright Green, Light Blue
Timetable:
Pre-lobby: 6:30 PM UTC
Battle start: 7 PM UTC
Event end: 9 PM UTC

Start Procedure:
Each team has their own respawning checkpoint. To get to your checkpoint, you first have to drive to your primary checkpoint next to the starting grid. Take all the checkpoints until you get the one on a plate with your teamcolor and wait there. Then go carefully to the other checkpoint located next to the battlefield: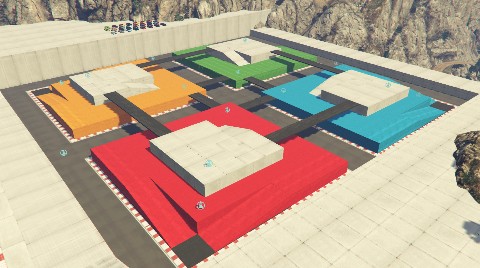 If you missed your checkpoint, your are an idiot. But no worries, this track is idiotproof. Just take all the checkpoints until you do a lap and do it again. You only have 2 trials.

For each battle, you have to respawn and wait on your black marked starting point:


Battle Procedure:
Each battle starts on the time said by the host. Each battle ends when one or no teams are left. When the round is running out of time, the current battle still goes on.

The winning team gets 2 points. The winning team gets 3 points if all the members are still alive. 1 point is given to each ending teams in case of a draw. The winning team is the one with the most points at the end of the two rounds.

In case of a point draw, a final 1vs1 is done to separate the teams.

You are only allowed to use the rockets. No side weapons. Friendly fire is on! Be carefull.

When you die:
You´ll respawn and wait on the side of the arena.

Issues:
Due to a bug, the rockets will sometimes not spawn for some people or will spawn but be unable to be picked up. If this happens, the only solution is to restart the round. Keep in mind that we won´t restart a round indefinitely (max 3 times). Because we simply won´t have the time.

Because it is a Team event, all 4 teams will need the same amount of participants. It may be uneven because of rockets issues, disconnects or Team signups. It will be up to the team to decide who can play in each battle. By default, the first to signup will have the right to play.

Requirement:
By signing up you understand that the rockets could not be spawning for you and accept to help the host for this round.
By signing up you understand that the teams have to be even and accept to spectate during some battles.
By signing up you understand that the host could move you before the event into another team if they are not even.
By signing up you understand that you are taking part to a TEAM deathmatch game.
Not showing up, being late, staying AFK or messing arround is terribly significant for the quality of the event.

Signups: 0/30