Post by TallestJohn on Jul 9, 2015 17:34:42 GMT
Not sure whether this should go in the Sports or Forum Games section.

You can now enter Fantasy Premier League 2015-16. You probably know how this sort of thing works now, but if not: it's a free game in which you pick Premier League players who score points for your team based on their real-life performances.
This will be a 16-team H2H league, meaning, as in real life, each team will play each other twice (some three times). These leagues are best when as many players are active throughout the season as possible. Entry for the H2H league is now closed, but you can still join the classic league where the table is decided by overall points throughout the season. It would be great if you could post here once you've joined, I'll try to update the OP to give an indication of how the tables are looking.
H2H: Sign up at
fantasy.premierleague.com/
using the code: 48941-44602
Classic: 48941-633088
August

Riyad Mahrez starred for me on the opening day as Little Nowhere Towns beat Victorious Secret 47-41, while Vincent Kompany's late show helped Cameronman's Nonchalant Dominance to a win over Abe's BaeGunners. The same players again impressed in week 2, but Cam edged this early top of the table clash with me thanks to Seamus Coleman. Your Mum's Athletic were the second lowest scorers, but Pundip still got the win by virtue of Mus' PCD starting with -20 points. Makin's Crystal Phallus and I played out the first draw of the season (41-41) in week 3, but were both left to rue our selection as we benched scorer Mahrez and hat-trick hero Callum Wilson respectively. Week 4 saw Makin draw a second consecutive game, this time with Victorious Secret. The month ended with Slayer's How Ayew Doing? top of the table with a 100% record by virtue of two more overall points than Cam.
August Classic leader:
Little Nowhere Towns - 182 pts
September

The top two traded places in week 5 by virtue of Cam's overall score. Craig's BantzChester United suffered a fifth consecutive defeat in week 6 to drop to the bottom of the table. Cam could only draw with Jmar's Ipswich Town FC, but he still extended his lead as Slayer lost to Tomtad's Top of the League. Makin made it 3 draws from his first 7 games as he and Pundip couldn't be separated in week 7.

September Classic leader:
Little Nowhere Towns - 354 pts


October

Week 8 was all about Agüero as the City man scored 5 goals to reward his owners with big points, including myself and Berto's BLOOD SUGAR FC who got the first triple figure scores of the season. My overall points gave me the edge over Cam at the top of the table. I quickly extended my lead in week 9, beating third placed Slayer while second placed Cam lost to Makin, who moved up to fourth. The week's highest score saw TomTad get consecutive wins for the first time as his Top of the League side move up to fifth. In week 10, PogChamp condemned Slayer to a third straight defeat, overtaking him in the process. Craig was the week's high scorer and earned his third win of the season, while despite an impressive score Mus still couldn't get his second win.
October Classic leader: Little Nowhere Towns - 573 pts

November
That elusive second win finally came for Mus in week 11 as he scored 86 points led by Coutinho, Mahrez and Lukaku. Meanwhile PogChamp, Praz's Dukes of Hazard and Evil's Real Mad Reds all won to move within a point of second placed Cam. The chasing pack gained some ground in week 12 as I lost to Averageloz's Average All Stars, while Mus was the high scorer again, beating Victorious Secret and moving off the bottom of the table at his expense. Week 13 saw Craig beat me 74-73 at the death as Lukaku's vice captain role came into play for him, resulting in Cam drawing level on points with me at the top. Mus also continued his fine form, winning and getting the highest score in the league for the third consecutive week. Praz's rise up the table was complete in week 14, his sixth win in a row capitalising on losses for me and Cam to go top.
November Classic leader: Little Nowhere Towns - 800 pts

December
Another loss for me and a draw for Cam saw Praz extend his lead in week 15, while Evil moved up to second. There was no change at the top as the top four all won in week 16, although Evil scraped a win in a low scoring encounter with Berto. A comfortable week 17 win over Slayer, combined with a Praz loss to Makin, meant Praz was top at Christmas. Cam beat me to return to second, while Abe's 98-90 win over Craig saw him draw level on points with me. Abe and Evil's losses in week 18 allowed Tomtad to leap to fourth, while Cam beat Praz to close the gap at the top to one point. Tomtad ended the year by moving up to third in week 19, while Abe's score of 85 allowed him to beat me and join me on 34 points along with jmar.
December Classic leader:
Little Nowhere Towns - 1084 pts
January
2016 began with Berto falling to the foot of the table as Pundip and Victorious Secret overtook him, while Praz opened up a 3 point gap over Cam. Dimitri Payet returned from injury in week 21, helping Pundip to the week's highest score, while the top two both lost. The same happened in week 22; Cam didn't stand a chance against TomTad's 89 points and he was overtaken by me and jmar, cutting Praz's lead to 2 points. Praz beat me in a top-two clash the next week though, while jmar also missed a chance to keep on the pace of the leader.
January Classic leader:
Little Nowhere Towns - 1274 pts
February
Pogchamp scored an impressive 91 points to begin the month with a win. Tomtad and Abe played out a 57-57 draw in week 25, while Cam and I suffered high-scoring losses, allowing Praz to go further clear at the top. The leader lost to Victorious Secret in week 26 but I was the only one of the chasing pack to make up ground. Jmar lost ground as he went down to Evil in week 27, while Cam beat Berto by a point.
February Classic leader:
Little Nowhere Towns - 1524 pts


March
Week 28 saw Tomtad overtaken by Pogchamp and Abe who moved up to 5th and 6th respectively; Praz had a 5 point lead with 10 games remaining. Praz lost 71-72 to Makin in week 29, allowing me to cut his lead to 2 points, while jmar overtook Cam to move to 3rd. Neither team could field a full XI, but a Harry Kane-led Tomtad beat Praz in week 30 and I capitalised to go top. Week 31 saw the two leaders get the highest scores, while jmar fell to 5th in a loss to Cam, allowing Pogchamp to move to 3rd.

March Classic leader:
Little Nowhere Towns - 1781 pts
April
The bottom two met in week 32, and Berto's captain Alexis Sanchez made him the week's highest scorer with 66 points to beat Loz.
Praz retook the lead in week 33 thanks to a 73-72 win over Pogchamp, while Ross Barkley featuring in his second game of the week saw Tomtad get a late win over me. The outsiders for the title were close together now, just two points separated 3rd from 7th at this stage, but Praz and I looked favourites going into the double gameweek. The excess of matches meant week 34 was the highest scoring yet; Berto and I scored over 100 points for the second time with Praz, Tomtad and Makin also winning with triple figures thanks to the likes of Aguero getting four goals over two games, while even players who only played once like Kane, Alli and Mane did well. Makin and I used our triple captain chip on Sanchez, giving us 75 points from one player. Jmar and Cam lost out as the chasing pack reshuffled. The two leaders both won again in week 35, while Loz fell to the bottom of the table as Berto beat Mus.

April Classic leader:
Little Nowhere Towns - 2093 pts
May
In the two horse title race, both leaders drew in week 36. Praz and Mus both scored 40 points with Kane as captain, while my defence and Troy Deeney were enough to match Berto with 54 points thanks to a Sadio Mane hat-trick. The penultimate week saw Loz send Berto to the foot of the table again. Cam beat Praz to move up to 4th, allowing me to return to the top, but the scenario remained the same: the winner of the final week's top two clash would win the league.
The title race went down to the final minute of the postponed final game of the season - Chris Smalling's own goal cancelling out the 5 clean sheet points I needed to secure a draw.
Despite still having my Bench Boost chip Praz, led by Mane with 13 points, ran out 50-45 winner and retook top spot.
H2H Champion:
Dukes of Hazard (@praz94 )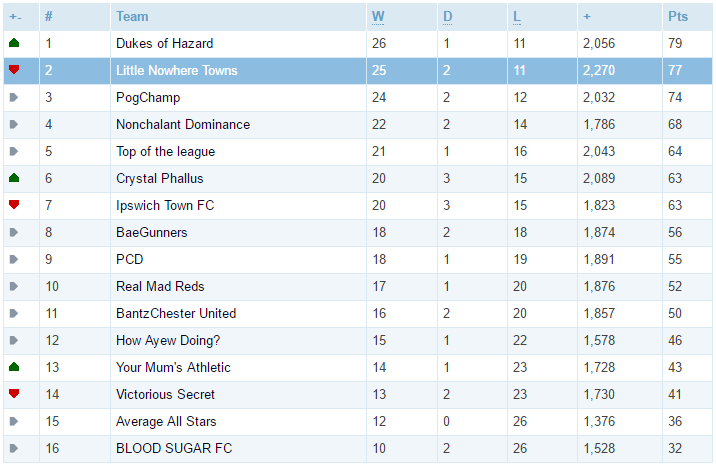 Classic Champion:
Little Nowhere Towns (
TallestJohn
)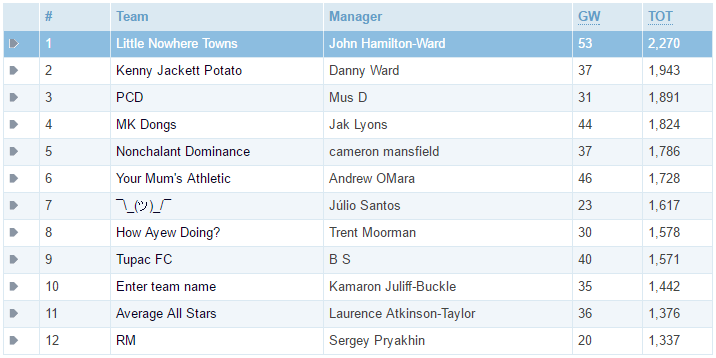 See also: vxwk is organising a league on the Mirror Fantasy iTeam app:
nodo.freeforums.net/thread/3698