Post by endersai on Sept 20, 2015 1:25:49 GMT
In response to fan and driver feedback, overwhelmingly positive, the FIA has decided to make the San Andreas Touring Car Championship (SATCC) a permanent fixture of their sports car events. The second season features an expanded race calendar, a push from Albany motors to get into the sports, and a scale back of involvement from Benefactor as their results translated well to road car sales.





2015 CROWEX SAN ANDREAS TOURING CAR CHAMPIONSHIP - SEASON 2
Los Santos, San Andreas - Swiss luxury timepiece maker announced today that it will continue sponsor and provide timekeeping for the FIA's Touring Car Championship in and around the city of Los Santos, SA.

Season 2 rules:


Weather: Always set to "current"

Dates: Next two races are Friday 2 October and Friday 16 October, 10pm UTC. Tracks will be announced.

Track submission guidelines: If you want me to consider a track, please look at the circuits used in Season 1 for characteristics. They are typically 1-1.5mins a lap. They are out of the city so there's fewer curbs - whilst curb boosting is fine and allowable, some cars like the Coquette and Comet can be affected too much by their presence.
They are not overly complicated tracks either - if you look at the most famous race circuits in the world, they don't require a post-graduate degree to navigate.
They should be intuitive too.

Cars:

Cars can be taken from the list below:

Grotti Carbonizzare
Pfister Comet
Benefactor Surano (limit of 3 teams maximum, at Level 3 engine and transmission)
Albany Alpha
Bravado Banshee
Invetero Coquette
Karin Sultan

Rules:

1) Cars must be one of the prescribed chassis above. Other cars may be considered, provided they are not one of the following: Annis Elegy RH8; Dewbauchee Massacro (both variants); Dinka Jester (both variants); Benefactor Felzter; Obey 9F.


2) Cars must race in a team of two drivers. Teams must have a principal sponsor – either as a factory team or with sponsorship by a major business in the GTA Universe: gta.wikia.com/Businesses_in_GTA_V

a. Teams must also have an appropriate colour scheme for their team. Care should be taken to avoid duplicating the colours of another team where that team races the same car. Different cars – e.g. Comet, Surano, Coquette – racing in similar colours is permissible

b. Teams cannot share primary sponsors

c. Teams must affix their cars with front, side and rear neons. The neons will be red for the primary driver, yellow for the secondary driver. In a team of two top performing drivers, results from Season 1 can be used as a guideline as can general agreement.
d. Teams must not substantially vary their livery during a season.


3) Teams should run one of the following categories of tyre only – Tuner, Sport, High-End. All other categories are prohibited.


4) Teams may run all other upgrades, including armour, engine, suspension and neon lights. The extent to which these are employed are at team discretion and as favoured by individual drivers.


5) The race will start when the Marshall's sticky bomb explodes and not when the counter reaches zero. The detonation will occur concurrent with a pre-nominated time on the race counter.


6) Where a circuit has a pit stop facility, each driver must make one pitstops per bloc of ten laps. For example, a 15 lap race would be 2 blocs of ten laps (laps 1-10, 11-15) and require two stops. A 25 lap race would be 3 pitstops.

A pitstop is not defined by time spent stopping and going, but rather a pass through the pit lane. Drivers must take care to rejoin in a manner that does not endanger the safety of other drivers nor cause other drivers to take avoiding action.


7) Where a driver is at fault for a collision involving one or more other cars, they must take a drive through penalty through the pit lane. This does not count as their mandatory pit stop. Any event that could be deemed a racing incident, such as a loss of control or a desync collision, will not be penalised. This results to squeezing a driver off the road, divebombing, or any other intentionally reckless act resulting in a collision.

a. Where a driver uses an intentional PIT manoeuvre on another car, they will be disqualified

b. The FIA has noted feedback from drivers regarding first turn incidents. Anyone causing a first turn incident will be given a 5 second stop-go penalty.

8) Any event involving a 3 or more car collision will result in the deployment of a virtual safety car. The virtual safety car deployment results in the pack forming up behind current race leader under the affected cars have formed up to the pack. Once they have done this, a landmark (such as "the gas station" or "checkpoint 14") or a time on the race timer will be announced. These points are when racing resumes.

a. Overtaking under safety car periods is not allowed


9) Each player must pay a race entry fee of $500, which forms the basis of a prize pool for the winner of the race. Each driver must bet the full $500 on themselves as winner. Additional bets on a favourite driver must not be placed as they may materially affect the odds in that drivers favour and diminish their prize pool.


10) Communication is via TeamSpeak – participants must have this installed.

11) Shooting flares at a driver on the post-race podium and setting them alight, whilst hilarious, is not an "acceptable substitute for champagne".

12) For atmosphere, please equip a country-flag parachute bag for your home country.

13) Respawning onto the track is only permissible when your car has crashed into water etc and cannot be recovered to track. Please advise the field if you intend on respawning.


TEAMS

Teams are given car numbers according to when they signed up. You need to indicate your team name, principal sponsor (i.e. factory team, Globe Oil, eCola etc), car, colours, and drivers. #1 driver should always come first in your listing, and this should match their neon colours.

Teams:

TINKLE MOTORSPORTS racing a Grotti Carbonizzare in garnet red.
1. ovivoJR (GER)
2. Sugar_Free_Nos (USA)

INVETERO RON OIL RACING racing an Invetero Coquette in black and yellow
3. CHILLI (SWE)
4. SabertoothWolF (AUS)

PFISTER RACING TEAM racing a Pfister Comet in silver and Oranje!
5. The Hunter (NED)
6. endersai (AUS)

PONSONBY'S RACING TEAM racing a Bravado Banshee in white and gold
7. Simon (GER)
8. DrKloden (USA)


VANGELICO RACING TEAM racing an Albany Alpha in black and gold
9. michiski22 (BEL)
10. cloudmcshort (SWE)

SCUDERIA GROTTI racing a Grotti Carbonnizaire in yellow
11. ArildTDG (DEN)
12. weepwomp (ROM)

TEAM FlyUS RACING racing a Benefactor Surano in matte white and red.
14. Dnl_Jackson (GER)
15. Grumples_Plox (grimreaper977) (GBR)

PRO-LAPS RACING TEAM racing a Bravado Banshee in blue and white
16. Superstepa_ (EST)
17. cloudmcshort (SWE)

SWALLOW RACING racing Pfister Comets in wine red and white
18. mrri0es (GER)
19. @pezby (AUS)

TEAM VANILLA UNICORN racing an Albany Alpha in purple and black
20. .fiyah (POL)
21. doompenguin (GBR)

LAMPADATI RACING TEAM racing a Pfister Comet in light blue and black
22. dariogi (USA)
23. kasumi (GER)

VINEWOOD PAWN AND JEWELRY RACING driving a Grotti Carbonizzare in yellow, black and red.
24. RapTor_X_ (GER)
25. Prutoog (BEL)

LTD GASOLINE RACING TEAM driving a Bravado Banshee in red, blue and white
26. @giordanop (BRA)
27. mcdinggle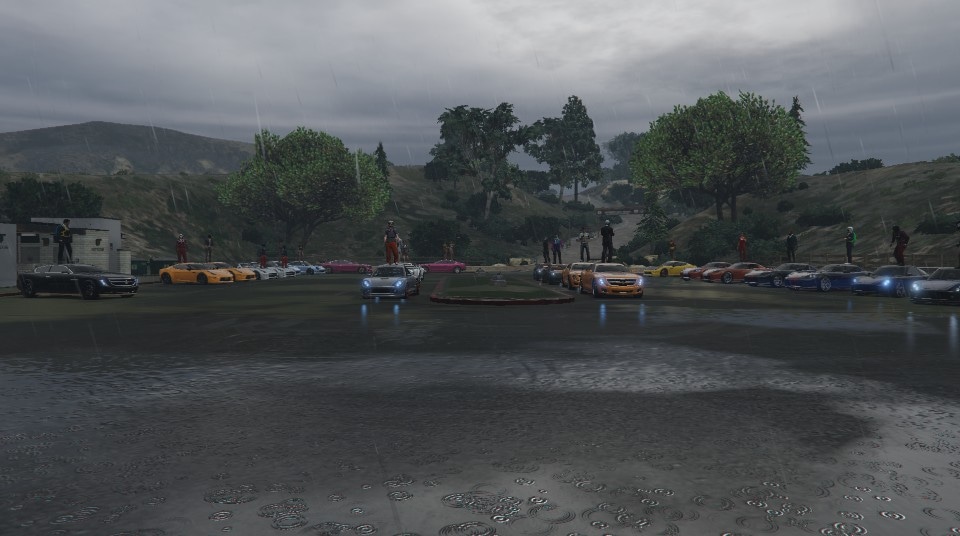 Race 11 & 12 - 11 December @ 9pm UTC
* Bahrain by DrKloden - 24 laps, 3 pit stops
* On the DARN by Oh_Darn - 14 laps, 2 pit stops


Race 11 - BAHRAIN by DrKloden
24 laps, 3 pit stops

1.fiyah
2.Grimreaper
3.DNL Jackson
4.OhDarn
5.Natalya
6.cloudmcschort
7.RaptorX
8.doompenguin
9.Prutoog
10.MrRi0es
11.SugarFreeNos
12.OvivoJR
13.Saber
14.Chilli
15.Endersai
16.Weepwomp
17.Superstepa
18.pezby
19.Arildtdg
20.DrKloden

Race 12 - ON THE DARN by Oh_Darn

14 laps, 2 pit stops.

1.Natalya
2.cloudmcschort
3.Endersai
4.RaptorX
5.DNL Jackson
6.Superstepa
7.Arildtdg
8.DrKloden
9.Saber
10.Prutoog
11.doompenguin
12.pezby
13.SugarFreeNos
14.OvivoJR
15.OhDarn
16.Grimreaper
17.fiyah
18.MrRi0es
19.Weepwomp
20.Chilli

Drivers standings
1. Oh_Darn 194pts
2. ovivoJR 156pts
3. Superstepa 105pts
4. doompenguin 96pts
5. cloudmcshort 66pts
6. Natalya 55pts
7. DrKloden 36pts
8. DNL_Jackson 34pts
9. Sabertoothwolf 29pts
10. Grimreaper 16pts
11. Chilli 16pts
12. Endersai 14pts
13. Sugar_Free_Nos 12pts
14. Servii 7pts
15. Pezby 4pts
16. Fiyah 1pt

Constructors
1. Pfister 208pts
2. Pro-Laps 171pts
3. Tinkle Racing 168pts
4. Vanilla Unicorn 97pts
5. Ponsonby's 91pts
6. Team Swallow 78pts
7. FlyUS 50pts
8. Invetero RON Oil 45pts

Withdrawn - Lampadati on 47pts

SATCC SEASON 2 AWARDS:
Driver's Champion (no voting)
Constructor's Champion (no voting)
YouTool Fastest Lap award (no voting)
Rookie Driver of the Year - Nominees are doompenguin, MrRi0es, DrKloden, Other (Please specify)
Most Improved: Sabertoothwolf, DNL_Jackson, Pezby, Other (Please specify)
Least Improved: Endersai, Sugar_Free_Nos, Chilli, Other (Please specify)

Note: For Other(Please Specify) you can nominate yourself, or someone not listed by me

Favourite New Track:

This is a new category and I'm only listing new tracks created for the event:

1) Parson's Loop (Sugar Free Nos)
2) Del Perro GP (Endersai)
3) Sandy Shores GP (Oh_Darn)
4) Spa(Kloden)

Favourite Returning Track:
1) Zan Cudochamps (Endersai)
2) F1 Grotti Montreal (Ovivo)
3) F1 Grotti Cluck'in Bell (Ovivo)
4) Union Grain 3 Way (Sugar_Free_Nos)
5) Blaine County NW (Endersai)
6) Blaine County S (Broughy)