Post by Just Hero on Mar 19, 2016 19:49:03 GMT
The Sedan Showdowns
6.30pm UTC, 17th April

As we all know, the Schafter family has dominated the sedans class since the launch of the game, leaving most of the class to collect dust in Premium Deluxe Motorsports. So to save them from being turned into scrap metal, we are going to give them a second chance at life.
Inspired by previous Showdowns, I am proud to introduce the Sedan Showdowns, where drivers will compete n 2 different care over the course of 2 races.
---
Race 1

Track:
Grotti F1 Peckerwood
Class: Sedans
Cars:
Asea
,
Stratum
,
Surge
,
Premier
,
Glendale
Time: Current
Weather: Clear
Laps: 48
Estimated runtime: 1 hour
Race 2

Track:
Up-n-Atom Burger Speedway
Class: Sedans
Cars:
Primo
,
Cognoscenti 55
,
Fugitive
,
Intruder
,
Warrener
Restricted Modifications: No Offroads
Time: Current
Weather: Clear
Laps: 16
Estimated runtime: 1 hour
This 2.5 hour event is supposed to be light-hearted, while allowing drivers to push both themselves and their cars to the limits.
---
Event Teams

This event requires you to be in a sponsored team of 2 (this means you will need a company team name and colour scheme, if you don't have one you can contact one of the teams here), and that the drivers will be driving different cars to each other in both races.
---
Event Points
The scoring system for both races will be as follows:

1st: 50
2nd: 40
3rd: 35
4th: 32
5th: 30
6th: 28
7th: 26
8th: 24
9th: 22
10th: 20
11th: 18
12th: 16
13th: 14
14th: 12
15th: 10
16th: 8
17th: 6
18th: 4
19th: 4
20th: 2
21st: 2
22nd: 2
23rd: 1
24th: 1
25th: 1
26th-30th: 0
(Disconnecting will put you at the back of the grid, so the first person to disconnect will be 30th, next will be 29th, etc..)
5 points will be awarded for the fastest lap in each car.

There will be a podium at the end for both Teams and Individual Drivers in this showdown, so make sure you push for those points!
---
Starting Procedure & Grid
The first race will have a randomized grid. The second race will be a reverse grid, using the finishing positions from the first race as a guideline. Any disconnections from the first race will result with you being placed at the back of the next grid.

---

Signups and Registration

Participants must apply while stating their preferred car, as well as 2 backup cars for both races. You must also state if you are going to be using a team and/or/if you are currently looking for a teammate:

---

E.g.
I want to represent
Debonaire Motorsport
in this event, who will be in Matte Light Grey Primary and Fluorescent Blue Secondary. I am currently looking for a partner so message me if you're interested!
Race 1
1) Surge
2) Asea
3) Glendale
Race 2
1) Cognoscenti 55
2) Primo
3) Intruder
---
Sign ups will close at 4.00pm UTC 9th April
or
1 week after signups fill up, whichever comes first. You have until then to change the choices in your post (tag
Just Hero
or I may not see it), but after that your choices are locked. Approximately 1-2 days after the choices have been closed, the driver lists will be published. This will give you plenty of time 2 practice with your cars and the tracks.
You will probably get your most preferred car, but the fluffy adventure will be arranged so that the number of people driving each car is equal. You are advised to think about this while making your choice.
(Be warned that this event is on a first-come-first-served basis and you are by no means guaranteed to get your first choice, so don't complain if you don't get that "
Primo
" you '
love
')
---
Not really much left 2 talk about except the fact that you need 2 have read everything
here
and are therefore eligible for events, as well as able to acquire your own versions of your cars. And remember, have fun.
Sign Ups (30/30 FULL!)
Debonaire Motorsport
in Matte Light Grey Primary & Fluorescent Blue Secondary
1.
Just Hero
2.
victorzxt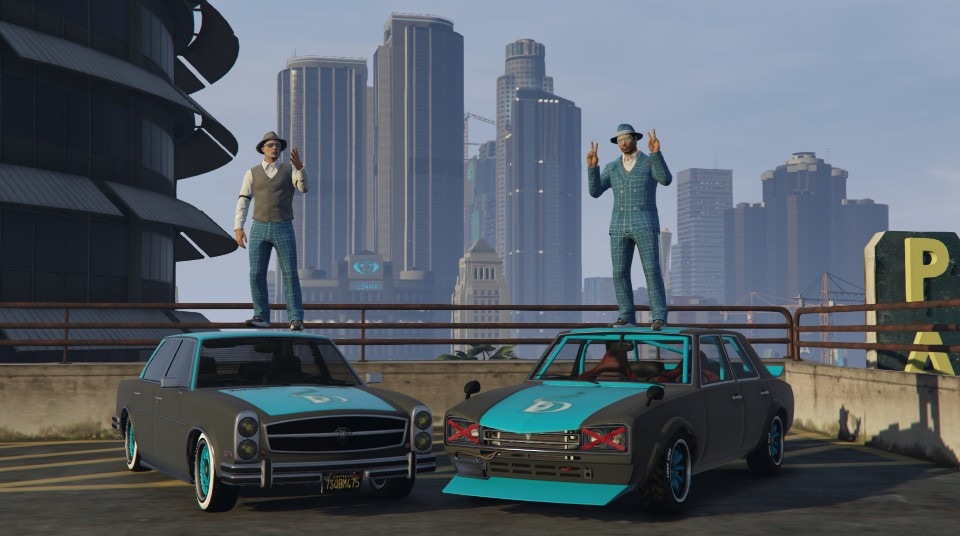 Obey Motorsport
in Metallic Formula Red Primary & Secondary
3. @hiberg
4.
Superstepa_
You Tool Motorsports
in Blue Primary & Orange Secondary
5.
Sugar_Free_Nos
6.
KooriNoTenshi
Redwood Racing
in Classic White Primary & Classic Red Secondary
7.
redlaserbm
8.
Prutoog
JackSheepe Racing
in Crew Minty Green Primary & Race Yellow Secondary
9.
GalantEvo
10. @nitrousflare
Benny's Motorworks
in Purple Primary & Blue Secondary
11. @novesori
12.
ryosuke
Xero Gas
in Crew Light Blue Primary & Formula Red Secondary
13.
CHill
14.
Eva
Jiffi Racing
in Metallic Race Yellow Primary & Classic Bright Green Secondary
15.
Divait
16.
lodus (@nommasch)
Buckingham Racing
in Brushed Gold Primary & Matte Dark Red Secondary
17.
jeffreyb1990
18.
bradstar7997
Karin Motorsports
in Midnight Blue Primary & Secondary
19.
st0cking
20.
QuincyS
LTD Gasoline
in Classic Dark Blue Primary & Classic Red Secondary
21. @giordanop
22.
jawn
Merryweather Racing
in Grace Red Primary with Torino Red Pearlscent & Black Secondary
23.
The Hunter
24.
creatcher
Templar Motorsport
in Metallic Cabernet Red Primary & Metallic Bronze Secondary
25.
kili31
26.
Jekyll.
Zirconium Racing
in Bluish Silver with Pearlescent Blue Primary & Blue Secondary
27.
s1lv3rw1z4rd
28.
Willy-N
Binco Racing
in Orange Primary & Black Secondary
29.
Benimi
30.
chmp2k
Reserves:
Daleks (@darkalex45)
Grumples_Plox (grimreaper977)