Post by Jackimo on Aug 4, 2016 5:56:03 GMT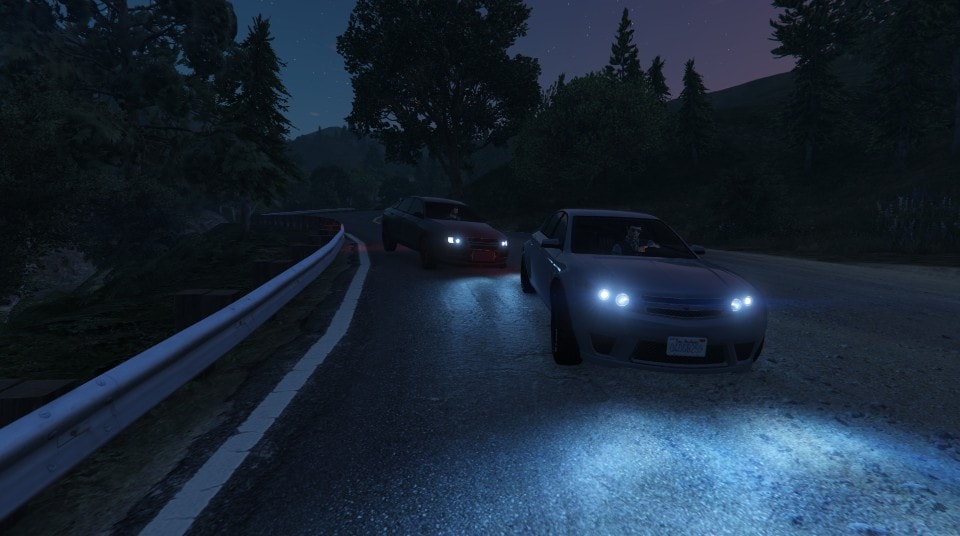 V8 Touring Car Championship
Starts 18th September 2016, 8:30pm UTC
Welcome to the inaugural V8 Touring Car Championship. This championship will take place in 12 races across 12 tracks. There is a driver's championship, a teams championship and a manufacturer's championship.
Also, one thing that people don't seem to realise is that because you're in a team, doesn't mean you have to have a sponsor and use their colour scheme. If you want to run as "Jackimo Racing" in bright pink and lime green, while your teammate runs around in matte black go ahead, I'm not gonna stop you, and you will functionally be on your own, with all the things that people don't like about teams not there. Crappy colour schemes, mainly
But for those of you that do want to take things to the next level, you can. If you want to do what I've done and put Stanced EG wheels on your car with custom tires and a paint scheme to match your favourite in-game business in order to create a car that wouldn't look out of place on a V8 Supercars grid, you can do that too. How much you guys embrace the teams is entirely up to you.
Fomat:
Qualifying:
Aprox. 15 minutes
Race length:
Aprox. 30 minutes
Timetable:
(All times are in 24 hour UTC time)
Q1 Lobby:
20:20
Qualifying 1:
20:30
Race 1 Start:
20:50
Q2 Start:
21:40
Race 2 Start:
22:00
Round end:
22:40
Rules/Regulations
Cars
There are four cars allowed in this event. These are: the Cheval Fugitive, Karin Intruder, Albany Primo (both versions) and Obey Tailgater.
Tailgater drivers are required to remove the spoiler from their vehicle prior to competing. Failure to do so will result in the driver having to borrow another driver's car for the race. If no appropriate car can be found, the driver will be disqualified. Three teams totaling six drivers are allowed to sign up for any given manufacter. Other cars may be considered provided the are not one of the following: Schafter, Schafter V12 (armoured), Warrener.
Cheval (3/3)
Karin (0/3)
Albany (1/3)
Obey (2/3)
Format
The races will take place on Sundays, at 8PM UTC
There will be 12 races, all lasting 30 minutes, with each race day consisting of two races
Qualifying will be a playlist of the two tracks of that race day, with contact set to on. Drivers are to set as fast a lap as possible during that time. All the regular community guidelines are in place during qualifying, including blue flag rules.
Races will last 30 minutes each, as calculated by the
laps calculator
. The second-to-fastest qualifying time will be used in the calculation.
Teams
There a teams championship and a drivers championship. Teams consist of two drivers in each race, but those drivers can change during the season. Drivers can change teams but teams can not change cars.
There is no limit on team names. Teams are encouraged to have a primary sponsor, to be the same for both drivers, but this is not required. Drivers may have different sponsors or none at all. However teammates must drive the same car.
Reserves earn points for the team they reserved for as well as their own drivers championship. In order for a driver to classify in any given race, that driver must be there personally.
Three teams totaling six drivers are allowed to sign up for any given car, with the Primo and Primo Custom being considered the same car.
Start Procedure
All cars will line up on the grid in order of qualifying results, with the fastest lap at the front
Cars shall set off on a formation lap, passing through pit lane.
After the formation lap, cars shall line up 1 car length behind the car in front.
The Safety Car (If provided) shall line up behind the grid.
A sticky bomb or grenade shall be detonated by the Safety Car driver (or race coordinator) and the race will begin
The Safety Car will pull into the pits and will now become the pit watcher.
If, for whatever reason, you have trouble lining up on the grid, you will start at the back or from the pits

Race Incidents/Safety Car Periods
If a big incident occurs involving 3 cars or more, a virtual safety car will be deployed
During safety car periods, the lead car is to reduce pace considerably to allow drivers behind to catch up. No overtaking is allowed.
All players must have voice chat enabled
Pit Stops
During the race, drivers must take at least 2 pit stops at any time. There is no need to wait at the end of the pits.
Blue flag

The blue flag, along with the rest of the racing guidelines, is in effect here. If a faster driver is ready to lap a slower driver (ready meaning the faster driver would be close enough to make an attacking move if racing someone of a similar pace) then the faster driver is to sound his horn to alert the driver being lapped to his presence. If after one full lap the faster driver is still behind the slower driver, the slower is required to drive through the pit lane, which does count toward the mandatory limit.
Penalties
If a driver commits an offence (not following blue flag, dirty racing, etc) than the safety car driver can enforce a drive-thru penalty, which may or may not have a time penalty attached. If a drivers refuses to follow these instructions, it will result in disqualification from the race, and further action may be taken, depending on the severity of the offence.
Disconnection/retirements
Any disconnections during qualifying will result in those driver(s) to not qualify and have to start at the back in the order that they join the race lobby.
If anyone disconnects during the formation lap, we will exit the lobby and allow that driver(s) to rejoin. If 3 or more drivers disconnect within the first 5 minutes of the race (formation lap not included) than we will exit and allow those drivers to reconnect, with those laps completed being deducted from the race total
Any retirements after the 5 minute mark will result in those drivers being placed in the order they retired in. If a driver quits delibrately, be it due to bad performance or otherwise, they will be disqualified from the race but no further action will be taken, unless repeated over a course of several races. Drivers are not required to prove they disconnected rather then ragequit, but honesty is appreciated. The exception to this is that if the race runs past the scheduled finish time, any retirements will be considered disconnections.
Temporary retirements
If drivers must stop racing for whatever reason, but the situation does not warrant a complete retirement, drivers are allowed to pull into the pits for a maximum of five minutes with no penalties being applied. If an immediate pull over is necessary, drivers are to pull off completely to the side of the road, for a maximum of two minutes. If drivers fail to return to racing within those time frames, it will result in a non-classification (NC), voiding the driver of any championship points for that race. If the driver fails to return to racing before the end of the race, further penalties may be applied in accordance with the "Staying until the end" section of the racing guidelines.
Racing incidents
If a driver accidentally hits another driver, causing them to spin out, etc, including lag takeouts, then driving through the pits is an acceptable way to give the position back, as is waiting in a safe spot elsewhere. However, this
does not
count toward the mandatory pit total for that race.
Standings
Spreadsheet
1st - 25
2nd - 18
3rd - 15
4th - 12
5th - 10
6th - 8
7th - 6
8th - 4
9th - 2
10th - 1
Participated - 0.5
CalendarRound 1
: 18th September 2016
Tongva-Richman Ring
Morning, Clear
Sandy Circuit
Noon, Rain
Round 2
: 25th September 2016
Red, Black or Green
Morning, Clear
Olympic Raceway
Night, Clear
Round 3
: 2nd October 2016
Mirror, Signal, Manœuvre
Noon, Rain
Taco Bombing
Night, Clear
Round 4
: 9th October 2016
Circuit De Povero
Morning, Clear
Harmony Circuit

Noon, Clear
Round 5
: 16th October 2016
TBA Circuit
Noon, Clear
Valentine's Day
Night, Rain
Round 6
: 23rd October 2016
Urban Nature
Morning, Rain
Fast Food
Night, Clear
Convenient Playlist
Teams/signups (@forumtag/ gamertag)
To sign up, list the team you'd like to drive for, and, if you wish to drive part time, list which rounds you would like to race at. If you're signing up under a new team, list the team's car, primary colour, secondary colour, and wheel colour. Also include a link to the team's pit lane post, if there is one.
Team name - car - primary, secondary (if applicable), wheels
Safety car
open
Cheval Dealer Team - Fugitive - Silver, black
Jackimo
/ Jackimo1999
open
Cherry Popper - Fugitive - Red, white
Bdogs
/ The Real Bdogs
open
Radio Mirror Park Racing - Tailgater - Dark orange, frost white
RJSlow
/ RJSlow
open
Atomic Tire Slayers - Tailgater - Wine red, matte grey
kurbstomp88
/ Kurbstomp 88420
open
Team Sprunk - Primo Custom - Matte Black, yellow, lime green
ironfox
/ AKU R 91
the2binets
/ The binets
Crysis Racing - Fugitive - White, Red (Redwood sponsorship)
@crysismanhun2 / crysismanhun2
open
Reserve/ No team given
Please be sure you are
eligible to participate
before signing up