Post by endersai on Sept 21, 2016 1:02:59 GMT
CROWEX™ 2016 SAN ANDREAS GRAND TOURING CHAMPIONSHIP SEASON 5 (formerly: SATCC)


Los Santos, San Andreas: Swiss watchmaker Crowex today announced its continued sponsorship of the popular GT racing series. Crowex will act as official timekeeper of the race, as well as providing well crafted and overpriced chronographs to drivers.
Season 5 rules:

Session Host: Oh_Darn (because Australian interwebs)
Participants: Min 24, Max 28
Weather: Always set to "current"
Time of Day: Always set to "noon" (except night races marked with an "N")
Dates: Race season starts Friday 21 October 2016 at 10pm and then fortnightly 4 November 2016 from 9pm UTC (Europe Daylight savings).
Preseason test will be on 21 October at 10pm UTC. Attendance is not mandatory.
Cars:
Cars can be taken from the list below. Once a maximum of 4 teams per car type have been selected, we will assess any subsequent requests before approving. SAGTC is built off a diverse field, and not from everyone racing the same car.
Note: Any cars marked with a * are subjected to downgrades to balance their pace.

Dinka Jester
Dewbauchee Seven70
Obey 9F
Grotti Bestia GTS
Pfister Comet
Benefactor Surano
Bravado Verlierer

Team car selections are LOCKED after the Pre-Season Test (see below) and will only open at the mid-season break.
Changing Cars:
In an ideal world, a team would not change a car during the season. It breaks the immersion of the atmosphere, and other drivers always assume the motive is not to get out of a machine you hate, but to maximise your advantage by switching to a faster machine.

We recognise that this is an event where people should feel welcome and look forward to the next race. As such, we accept if you pick a car and it just makes the event a chore because you made a mistake, then changing is what keeps you around and we want that.

During the "mid season break", teams may switch cars. Doing so involves taking a penalty, in which you start from the pit lane.
This qualifies as a penalty for the purposes of the "white card" rules (explained below).

RACING RULES:

1) Cars must be one of the prescribed chassis above. Other cars may be considered, provided they are not one of the following: Dewbauchee Massacro (both variants); Dinka Jester (Racecar); Benefactor Felzter.

2) Cars with a * symbol will be subjected to mandatory downgrades. Those downgrades are enforced on gentleman's (or ladies') agreement.

3) Cars must race in a team of two drivers. Teams must have a principal sponsor – either as a factory team or with sponsorship by a major business in the GTA Universe: gta.wikia.com/Businesses_in_GTA_V

a. Teams can run the same colour scheme if they are in different cars. The purpose of the colour scheme is to replicate a racing livery, and make each team's car visually distinct.
b. Teams cannot share primary sponsors
c. Teams must affix their cars with front, side and rear neons. The neons will be red for the primary driver, yellow for the secondary driver. In a team of two top performing drivers, results from Season 4 can be used as a guideline as can general agreement.

4) Teams should run one of the following categories of tyre only – Tuner, Sport, High-End. All other categories are prohibited.
4a) Atomic Tyres are the official tyre provider for SAGTC. Please run the custom tyres to reflect this.

5) Teams may run all other upgrades, including armour, engine, suspension and brakes. The extent to which these are employed are at team discretion and as favoured by individual drivers.

6) Race starts will be a combination of a fixed time and sticky bombs. The event host will announce a time, and anywhere up to 1.5s after that time the stickies can blow. Drivers need to wait for the bombs before starting their race.

7) Where a circuit has a pit stop facility, each driver must make one pitstops per bloc of ten laps. For example, a 15 lap race would be 2 blocs of ten laps (laps 1-10, 11-15) and require two stops. A 25 lap race would be 3 pitstops. Pits must be called out as you take them.

a. A pitstop is not defined by time spent stopping and going, but rather a pass through the pit lane. For this reason, a pitstop cannot be on the last lap of a race where the pitstop begins before, but ends after, the start/finish line. Pitstops (i.e. mandatory stops) may never be on the first lap of a race. If a car pits due to penalty or severe damage, it will not count towards their mandatory total.

b. Drivers must take care to rejoin in a manner that does not endanger the safety of other drivers nor cause other drivers to take avoiding action.

8) Where a driver is at fault for a collision involving one or more other cars, they are expected to wait as per NoDO crew guidelines. This includes where lag is a factor; what you see on your screen is not what others saw.

9) Any event involving a 3 or more car collision that disrupts the race may result in the deployment of a virtual safety car. The virtual safety car deployment results in the pack slowing down and forming up behind current race leader under the affected cars have formed up to the pack. Once the pack has formed up, Endersai will announce that the safety car as "in". Once that announcement has made, the race leader controls the pace and may speed up or slow down the pack as needed.

a. Overtaking under safety car periods is not allowed
b. taking a pit stop under the safety car period is allowed however cars must remain on reduced speed when entering the pits and merge back into traffic. They may not overtake any cars when exiting the pits, unless the car they are overtaking has crashed in the pit lane. Failure to merge correctly, or gaining positions after exiting the pits, will result in a drive through penalty.
c. If a safety car is called on lap 1, the rule about not pitting on lap 1 remains in effect.
d. Endersai will call out the safety car; it only comes out on his say-so. At a minimum, there will be 20 seconds between when Endersai announces the safety car is coming in, and when the safety car is actually in. Endersai will also clearly state the time the safety car is in twice, to avoid confusion.
e. Overtaking may resume once the safety car is in, i.e. the time announced by Endersai
f. If Endersai is not able to attend a racing event, then OvivoJR and/or Oh_Darn will have control of the safety car

10) Each player must pay a race entry fee of $500, which forms the basis of a prize pool for the winner of the race. Each driver must bet the full $500 on themselves as winner. Additional bets on a favourite driver must not be placed as they may materially affect the odds in that drivers favour and diminish their prize pool. Contribution helps to reward the winners and create an incentive to win.

11) Communication is via TeamSpeak – participants must have this installed. If you do not have a mic, please get one, it's really preferred to typing in chat.

12) Respawning should be a last resort for drivers as it can cause accidents. If you need to respawn, please call out where you are/were on track so others can avoid the middle of that checkpoint.

13) Racing lines, overtaking, and weaving/defending - for avoidance of doubt we fully use FIA F1 rules here. An overtake is considered done for the purposes of yielding the line on a corner when your front wheels are ahead of the rear wheels of the car you are passing. Late braking overtakes are acceptable provided they do not constitute a dive bomb. You may not weave to block cars behind you - you may leave the racing line once to defend but you may not move back onto it once you have left it.

FIA rules links - www.fia.com/regulations/regulation/fia-formula-one-world-championship-110

14) Players are required to cap their games at 60FPS so as to avoid advantages from FPS boosts.

15) The primary attributes of a good SAGTC driver are reliability and attitude. Being an unpleasant, rude, angry or negative person who happens to be faster than light is not enough to get you a seat in the event. Being a good person who shows us, is. Continuing this on, you should always show respect for other drivers at all times, even if they aren't showing you respect. We will deal with issues as they arise.

White cards
16) Drivers are issued with two White Cards during the course of the season. Each driver must elect to drop 2 scores over the course of the season. Scores are dropped by playing a "white card". The scores can only be dropped from the race/s that has/have just been completed. The cards cannot be used for races before the most recent one; nor can drivers vary their choices once they have made them. Should drivers not, by season's end, have nominated their two dropped scores then the FIA will drop the highest and then lowest scoring positions. If they have not played one of their two cards, their highest scoring position that weekend will be dropped.
a. White cards cannot be used for races where the driver is serving a penalty.

17) The use of any mods or trainers in the event, including for practice, will result in a disqualification for the team. This is irrespective of if one driver is using it or both are.
18) Curb boosting/surfing - the practice of attaining speed boosts by mounting a curb or similar multiple times - is banned. As a general rule, curb boosting is one curb = one boost.
a. On tracks where the surface is mostly or exclusively Stunt Prop pieces (i.e. Monza, Pillbox Hill GP), the race organisers will provide guidance around exceptions before the race. This guidance will be specific to the circuit.
19) Shooting flares at a driver on the post-race podium and setting them alight, whilst hilarious, is not an "acceptable substitute for champagne".

Points
Points are awarded as follows:
1st 25pts
2nd 20pts
3rd 18pts
4th 16pts
5th 14pts
6th 12pts
7th 10pts
8th 8pts
9th 6pts
10th 4pts
11th 2pts
12th 1pt


If drivers are tied on points, positions are decided on results countback. Wins are compared, and the driver with most wins is classified ahead. If wins are equal, second places are looked at, and so on.

Qualifying
Feedback around random grids was mixed to negative, and accordingly we are implementing the following system.
Races 1 and 2 will be fully randomised grids.
Race 3 will take the top 12 positions from race 1, and reverse those for the race. Positions 13-28 will start in the order they finished.
Race 4 will take the result of race 2 as a basis, and so on. All odd race results will determine the start of the next odd race; all even race results will determine the results of the next even race.
Example:
RacerX finishes P1 in race 1, and P15 in race 2. RacerX starts race 3 in P12 (reverse of Race 1 results) and P15 in race 4 (>12th place, so start in order they finished.
This helps to manage strategies for the team before the race weekend.
The Strategy Group
The strategy group is an advisory group who advise on the operation of the event by discussing rules decisions or any other key discussions.
To enhance transparency, a member of the strategy group will be responsible for communicating the Group's decision to the thread. This includes where the Group disagreed with the event host and were overruled.

Members of the group can also act as advocates for drivers concerns. The members for Season 5 are:
Endersai (Chair, Progen Racing Team)
fab.ICEMAN (Progen Racing Team)
OvivoJR (Season 1, 4 Champion; Dinka Racing Team)
DNL_Jackson (Dinka Racing Team)
Oh_Darn (Season 2 Champion; JUNK Energy Racing)

Tonyborbony (Marlowe Vineyard Racing)
BIGGamerer (Redwood Racing) and
The_Bad_Loser (ex-FlyUS Racing, Seasons 1, 2 and 4)
Track submission
Closed. With the performance of these cars being different from Seasons 1-4, track balance is critical. We are finalising a track calendar based around:
* Balance - speed vs technical (so we don't front or rear load tracks that suit a type of car)
* Difficulty
* Synergy - so avoid 2 races in the same weekend being in Sandy Shores
Calendar
Pre-season Test
Similar to Season 4, we will run some preseason testing for the cars. Note: Tracks raced here will not be in the final race calendar.

The test is not a race, and should be used strategically by teams to measure their race pace on speed and technical tracks. It also allows them to try out a proposed car to see how it battles with others.

Test track one - Chaps Raceway
Test track two - Fever Pitch (Night race)

The pre-season test is on Friday 21 October 10pm UTC.

Participation is not mandatory
RACE SEASON
Fri 4 Nov 9pm UTC - Parson's Loop and 2016 Grotti F1 Montreal
Fri 11 Nov 9pm UTC - Annis Laguna Seca and Exit 4A 1-Way

BREAK

Fri 25 Nov 9pm UTC - Blaine County NW and Hill Ary Clinton
Fri 2 Dec 9pm UTC - Monza and SSGP

MID SEASON BREAK

Fri 6 Jan 2017 - 9pm UTC - 2016 SATCC Zan Cudochamps and Monaco
Fri 13 Jan 2017 - 9pm UTC - Barracks Obama and Pillbox Hill GP

BREAK

Fri 27 Jan 2017 - 9pm UTC - Sandy Steep Banks and 2016 Cluck'n'Bell
Fri 3 Feb 2017 - 9pm UTC - BLK Rocky Walls and Del Perro GP
* Tracks marked with "*" are in the final stages of construction and will be available shortly.


TEAMS

Submission
Submission does not guarantee participation. We will be looking for people to attend SAGTC based on what they've shown in NoDo to date, including in past SAGTC/SATCC seasons.
First and foremost, we are after good, fun people. Speed comes after respect in my books.
Signups will give priority to former SATCC drivers.
When signing up, please let me know your team and teammate if you have them; your car/s, and your livery.

Car #1 is reserved for the defending champion. After that, we will line up drivers based on teams carried over from last season first; then new teams.

Teams (14/14)

Dinka Racing Team driving a Dinka Jester in dark steel and red
01. ovivoJR (GER)
02. Dnl_Jackson (GER)

Progen Racing Team driving a Dewbauchee Seven70 in graphite and McLaren orange
56. fab. ICEMAN (GER)
10. endersai (AUS)

Devin Weston Racing driving a Dewbachee Seven-70 in matte dark and fluorescent blue
05. Benimi (HUN)
14. jeffreyb1990 (NED)


Redwood Racing Team driving a Dewbauchee Seven70 in white and red
08. redlaserbm (USA)
87. Krizz (GER)

LSPD Racing Division driving a Grotti Bestia GTS in Black and White
70. Sarah (NOR)
21. -YoloSwaggins-
Junk Energy Drink Racing Team driving a Dewbauchee Seven-70 in lava red and black
04. The Hunter (NED)
92. Grumples_Plox (grimreaper977) (GBR)

Marlowe Valley Vineyard Racing Team driving a Dinka Jester in crew red and black
28. Ganjalo (BGT FRA)
88. Tonyborbony (NED)

Oriental Theatre Racing Team driving a Dinka Jestah in garnet red and midnight blue
42. Kaleeb42 (USA)
22. michiski22 (BEL)

CNT Racing driving an Obey 9F in black and yellow
31. Divait (RUS)
09. @zenvohh (GBR)

Globe Oil Racing in a Pfister Comet in white and red
18. cloudmcshort (SWE)
03. Bezerka3 (GBR)

Pride Brew Crew driving a Grotti Bestia GTS in crew green and black
96. p4uliii (GER)
97. obihoernchen (GER)
Obey Motorsport Team racing an Obey 9F in metallica formula red
54. Superstepa_ (EST)
69. janx93 (DEN)
EgoChaser Racing Team driving an Obey 9F in gasoline green and yellow
26. mountainged (IRL)
19. positivetension (GBR)
Pegasus Racing driving a Dewbauchee Seven70 in dark blue and white.
27. neutreN (PRT)
20. beta1hit (GER)

Reserves

st0cking (GER)
jsantospt (PRT)
Just Hero (GBR)
HiBerg (DEN)


GRIDS

GRID FOR ROCKY WALLS:



LAPS: 28

PITS: 3




Results - FLY US Scoreboard

Hall of Fame

Season 1 Driver's Champion: OvivoJR (GER)
Season 1 Constructor's Champions: Benefactor Motorsports – OvivoJR and fab.ICEMAN

Season 2 Driver's Champion: Oh_Darn (NED)
Season 2 Constructor's Champions: Pfister Racing Team – Oh_Darn and Endersai

Season 3 Driver's Champion: doompenguin (GBR)
Season 3 Constructor's Champions: Augury Insurance Racing – doompenguin and Grimreaper977

Season 4 Driver's Champion: OvivoJR (GER)
Season 4 Constructor's Champions: Pfister Racing Team – OvivoJR and DNL_Jackson

Season 5 Driver's Champion: fab.ICEMAN (GER)
Season 5 Constructor's Champions: JUNK! Energy Drink Racing Team - Oh_Darn and Grimreaper977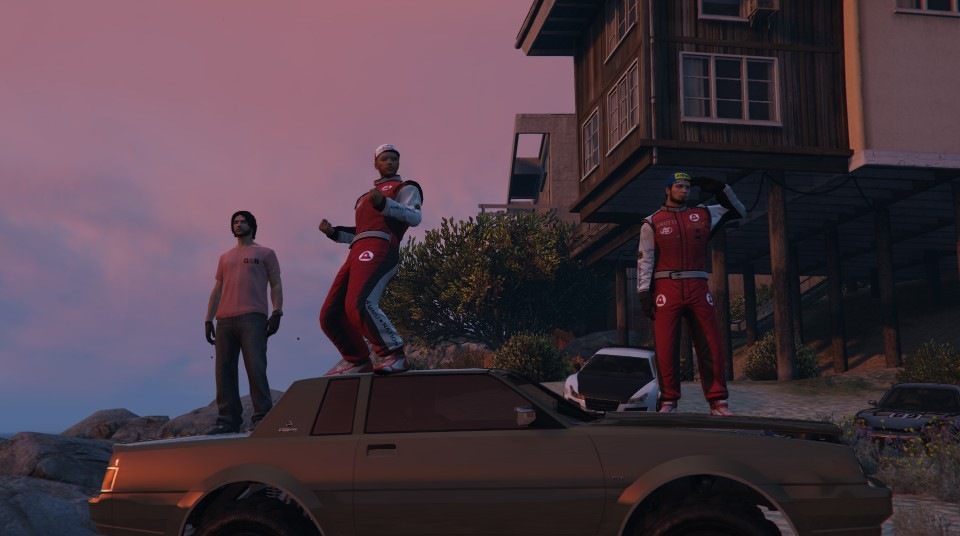 Season 4 driver's champion, OvivoJR (centre) with his constructor's champion DNL_Jackson (right)