Post by Blauze on Apr 7, 2014 18:45:12 GMT
I know there is a general thread about user-made races on the PS3 section, but I will have a few tracks to share and X360 content creators made individual threads as well, so... Here's my own.
I will post every serious race track I created, along with a few comments. To play these tracks, simply click on their name, it should bring you to the Social Club page.
--------------------------------
Tracks :
1) Trump Car Invitational
(Released in March 27th, 2014)
You have been selected to compete against the greatest racing drivers, in this street race that combines long, straight roads and technical sections. Act like a Jack, behave like a Queen, drive like a King -- Be the Trump.
This is my first Broughy Verified candidate. It also shares its name and description which my own way of playing games, encouraging fair-play and teamwork while still trying your best.
2) Santos Snake Shake
(Released in March 31st, 2014)
The S.S.S. is quickly becoming a fan favorite among street racing enthusiasts. Its short laps and numerous tight corners through tunnels and alleys make drivers feel like snakes, stalking their opponents like predators, gliding their way to victory.
And here is my second candidate. Shorter, but a lot smoother, this is my favourite so far among the tracks I made.
3) Vespucci Switchblade
(Released in April 6th, 2014)
Named after the weapon used by the first sore loser who decided to eliminate his unsportsmanlike opponents after this race, the Switchblade will give you many opportunities to shove other drivers off the road. Here's a piece of advice : Don't.
This one is directly inspired by the comments on the chatbox below. I wanted to make a track about being fair even when it's really tempting to play like an a**hole.
4) Target Audience
(Released in April 7th, 2014)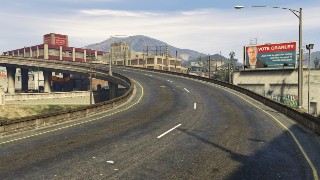 This race is the corporate response to potential customers ignoring ads. If drivers lose focus and crash on this highly curvy and technical track, companies will be proud to pay for hospital bills, knowing their taglines are attrictive enough.
I selected a random spot on map for this one. I endud up picking the highway. I like how it turned out, it's really curvy as the description says. Sadly, a few days after its release, I noticed it looks a lot like a Rockstar Verified race.
5) Pancake Classic
(Released in April 11th, 2014)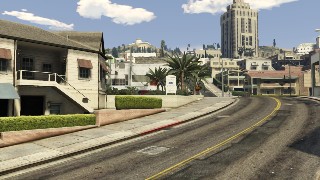 You know how it goes : Two housewives argue about which one makes the tastiest pancakes, their husbands get involved, they settle it on a race, both of them crash in a freak accident and the track gets remembered by street racers... Classic scenario.
...I don't know, guys. I launched the editor thinking "I'm gonna make a race as smooth as pancakes" and the description story came naturally. Curvy & technical with alley paths as usual. Looks like it's becoming my trademark.
6) Santos Snake Shake MAX
(Released in April 14th, 2014)
This longer version of the triple S adds even more technical sections and an offroad part through a building under construction to an already tight race track. Glide your way towards victory !
My favourite and shortest self-made track gets bigger. Broughy did it a few times with his Grand Prix and I wanted to spend more time on this race, so I decided I would try the same thing. When I tested it with a stock Entity, I noticed that the MAX version is longer by roughly 20 seconds per lap.
7) Going Places
(Released in April 14th, 2014)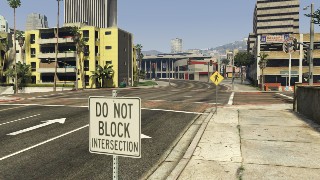 Little Seoul, La Puerta, Dutch London... Prepare for a technical world tour and race through whatever Los Santos minorities' roads have to offer.
When it comes to titles and descriptions, this one is easily my most uninspired track. And I'll be honest, I had low hopes for this one. But it's surprisingly a favourite among my friends, and it really grew on me.
8) Epinephrine
(Released in April 19th, 2014)
Do you feel the energy rushing into your veins ? Only state-of-the-art synthetics can do this to you. With roads as tight as blood vessels, this track will give any driver a much needed adrenaline boost.
I've been to the hospital last week and I've been checking my pulse quite often ever since. Things related to energy and blood have been on my mind for a while, hence the name, which actually fits the trick quite well IMO.
9) Good Morning Mirror Park
(Released in April 26th, 2014)
Mirror Park, where every day is exactly the same. Where the curvy, tight roads attract every kind of street racer. Where you're going to show every opponent who's boss this morning, by breaking both lap times and the neighborhood's routine.
This may very well be my new self-made favourite track so far. It's the first track I made from actual driving experience on GTA : Online, rather than by selecting a random spot in the editor and working around it until I get a nice track.
(While writing this note, I realized my two favourites so far, SSS and this one, are my only tracks that start with a left turn. I should do that more often)
10) Vintage Split
(Released in April 26th, 2014)
IBack when the Del Perro Split was only known by a handful of hipsters who didn't own a car, its layout was wider, with fewer technical sections. Still a nice race, but less cool.
Easily my fastest track yet... Until the W-turn. or three U-turns in a row if you prefer. There are also a lot of bushes and grass that split the track in half (hence the name), so be careful. This track used to be called "Del Perro Split". This is the original layout of the aforementioned track.
11) Red Hot Rash
(Released in April 27th, 2014)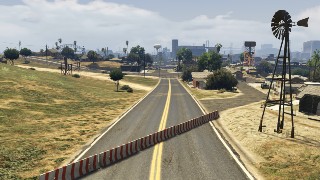 When El Burro citizens decided to host a grand prix, things didn't exactly go as planned. They were denied the necessary funds, but decided to try it themselves anyway. The result is a notoriously dangerous and technical race.
This one was sitting in my saved, unpublished races list for weeks, but I decided to share it after a few modifications. It has an "extra tricky" part, and a LSGP-style hairpin. Also, "Redneck" is censored.
12) Take me to the hospital
(Released in May 3rd, 2014)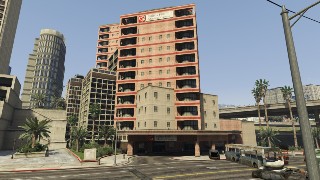 Here's the thing with illegal street racers in LS : Winners have a tendency to get shot by losers who, in turn, get shot by those below them. Try to dodge both bullets and competitors in this fast track.
I wanted to use the hospital for a while, so here it is. It's a pretty fast one, which links a section from Santos Snake Snake to the tunnel from LSGP.
13) Del Perro Split
(Released in May 23rd, 2014)
In an effort to make the city more eco-friendly, Del Perro's roads are delimited by grass and palm trees. In an effort to win this fast, yet quite technical circuit, you'll ram into those bushes and spread your gas all over the place.
I started with the Vintage Split then heavily modified this track after hearing advice from several people, including Broughy.
14) Del Perro Cross-Split
(Released in May 27th, 2014)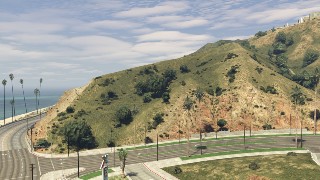 If you believe this is just a reverse track, think again. This version of the DPS contains several new parts, still offering drivers the same dosage of speed and technicality while taking the famous highway exit part from a different angle.
This... is pretty much a reverse track, actually. It focuses on a portion of the road I didn't use, next to the highway.
--------------------------------
Playlists :
Playlist 1) Blauze's First 8
(Released in April 19th, 2014)
As the name says, it's a playlist featuring my first eight serious, NoDo-styled (I hope) GTA tracks. They're not in chronological order, though. Here's the track order list, from first to last :
*
1) Trump Car Invitational
*
5) Pancake Classic
*
2) Santos Snake Shake
*
4) Target Audience
*
8) Epinephrine
*
7) Going Places
*
6) Santos Snake Shake MAX
*
3) Vespucci Switchblade
Playlist 2) Blauze's Latest 8
(First released in May 3rd, 2014, latest version from May 3rd, 2014)
This one contains my 8 newest tracks, from the most recent one to the oldest of the eight. This playlist will be updated every 4 races I publish.
*
12) Take me to the hospital
*
11) Red Hot Rash
*
10) Del Perro Split
*
9) Good Morning Mirror Park
*
8) Epinephrine
*
7) Going Places
*
6) Santos Snake Shake MAX
*
5) Pancake Classic
Playlist 3) Blauze's Finest 8
(Soon)
This playlist will regroup my 8 best races according to the Social Club ranking system, and will also be updated every 4 new tracks (or if there are major changes in popularity).
I'll make it whenever I release 16 tracks.
----------------------------
Of course, feel free to leave me some feedback and advice, tell me what works and (more importantly) doesn't work in my races, correct me if I made a typo / grammatical mistake in the description, and if you like the race and want to re-create in on Xbox 360 then go ahead, "steal" the track and slap your username on it, I don't mind. Just let me know if you do it and give me credit.
Tell your friends.