Post by piguy3141 on Feb 14, 2017 23:22:02 GMT
(PC) The Affordable Supercar Event
March 11th, 8:00 pm UTC
In a time where the world is quite confused, whether it be BREXIT or the US Election, one thing is for sure: speed freaks are getting constrained by ridiculous speed limits, CO2 emission regulations, and soaring prices. Instead of turning our attention to pulling off meticulously planned heists or delivering some dank w33d, why not focus on the little guys? The ones that are fortunate enough to not be restricted by CO2 emission regulations and AREN'T worth more than the entire GDP of the United States and China combined. Well that's what this event is for: the Affordable, Bang for your Buck (giggle) Supercar!
---
WINNERS

LSPD Racing (FriendlyBaron, Grodo, SteveJEWBZ)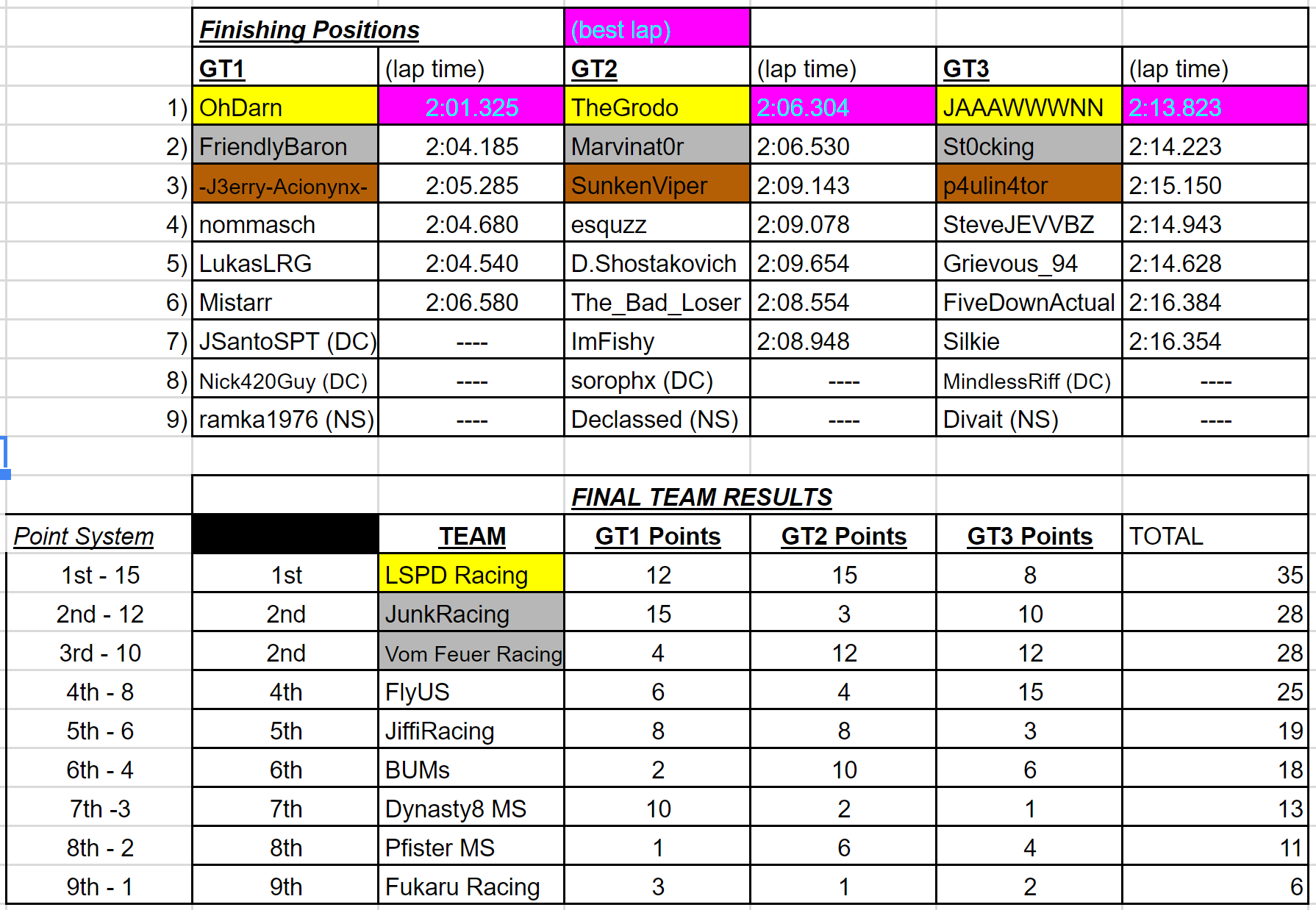 ---
Track and Cars Information
Track:
New Grapeseed Raceway
Laps:
26 Laps (around an hour)
Time:
Current
Weather:
Current
Players:
27 racers, 1 pit watcher, two camera men (if applicable)
Class:
Supers
Cars:
Turismo R (GT1), Vacca (GT2), Bullet (GT3). Customs will be used
Restricted Modifications:
No Offroad Tires, no Whitewall on Lowriders (if applicable). Recommended bulletproof tires for Molotov pit-stops. 60 FPS limit
---
Time Table
Date: Saturday, 11th of March 2017
Pre-Race Lobby: 7:30 PM UTC
Race Lobby: 7:45 PM UTC
Race Start: 8:00-8:15 PM UTC (including grid set-up)
Event End: 9:00-9:15 PM UTC

---
Start Procedure
We will set off each respective GT in intervals of 5 seconds, starting with GT1, then GT2, and then GT3. This is to fully minimize the possibility of a full lobby crash on the first corner.
The grid will be randomly generated on
GtaRacing.net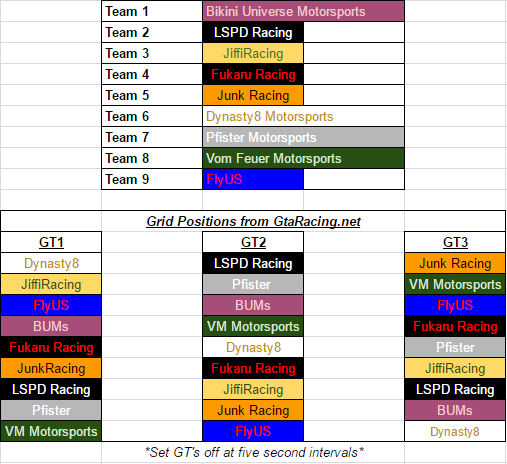 ---
Pitting
Pitting In: After you have hit the slow down strip, you must come to an immediate stop for one second. After this one second, you are then allowed to full throttle out. You are permitted to drop a Molotov to repair your car, or have the pit-watcher shoot your car once, as the pit-stop is on regular roads and not a stunt prop. That being said, you are not permitted to use it anywhere else, even leading up to the pit. Evidence of you doing so will result in a warning, with the second act being reduction in points added to finishing position. Basically, don't do it.

Exitting: The pit is on the second main straight, so cars will be gunning full speed past you. Ensure that you make sure you stay out of the racing line until you regain said speed. You are able to mid drive in the GT's to get some speed back!

---
Ethics, Guidelines, and Rules
You will be racing against your own GT. Your performance against other GT's is not important. Blue flags will be in play. Higher GT's always have the right of way. If you spin someone out, even if they are a higher or lower GT, you must wait for them to regain their position before you begin again. Lag is an unfortunate event and is strongly recommended that, to protect the integrity of the race, that if someone calls you out for hitting them that you wait unless you are absolutely certain you did not hit them (for example, a car one second ahead of you shouldn't be yelling "You spun me out!" if they were a second ahead).
In this race, you
must do at least two pit-stops.
Unless someone else wishes to take the role,
piguy3141
will be the pit-watcher. He will monitor how many pit-stops each person has done. You are not required to call out your pits, but it is always a helpful reminder.
Lastly, you must be in the assigned Teamspeak channel in all stages in order to participate. You are not required to talk, but it is highly recommended that you have a mic to use.
---
Points System
The points system applies to each separate GT. The winner of each GT will receive the most points. The team with the most points by the end of the race will be declared the event winner. That being said, this is purely meant to be a "fun" event. Taking it seriously is okay, but do not become the event host and rage (is that a self diss?). Disconnects are highly unfortunate but must be totaled into the scoring. However, I will personally indicate if a team had a disconnected user in both the point generation and the final added up score.
First Place: 15 points for team
Second Place: 12 points for team
Third Place: 10 points for team
Fourth Place: 8 points for team

Fifth Place: 6 points for team
Sixth Place: 4 points for team
Seventh Place: 3 points for team
Eighth Place: 2 points for team
Ninth Place: 1 points for team
---
Signups
To sign up a TEAM...
Team Name (and colors)
Player GT's (if you have open GT's, list them as "Open")
To sign up as a FREE DRIVER...
Name:
GT of Choice (in descending order).
If you wish to sign with someone's team, indicate it in a third bullet point. Free drivers that have not been recruited or committed to a team by the time sign-ups are full will be drawn into random teams. There is a chance that you will not receive your most preferred GT, so please be prepared for this.

Sign ups will automatically close (I will update the original post and post a reply in the thread) when the sign ups are full. Any other sign ups will be automatically moved to reserves
NOTE: I will not list you as a team member as a free lancer unless the original poster of the team says you are in with them.
Current Signups (3/3)

Pitwatcher:

piguy3141


Cameraman 1:

MrBeattBox


Cameraman 2:

Blackb3rt
(Racers Signups: 27/27)
Team 1:
Bikini Universe Motorsports (Metallic Midnight Purple w/ Candy Red Pearlescent primary and secondary. Black wheels)
GT1:

Nick420Guy

GT2:

Sunken

GT3:

key
Team 2:
LSPD Racing (Classic Black Primary, Classic White Secondary)
GT1:

FriendlyBaron

GT2: @grodo
GT3:

SteveJEWBZ
Team 3:
JiffiRacing (Classic Racing Yellow with Ice White Pearlescent, Classic Bright Green Secondary)
GT1:

lodus (@nommasch)

GT2:

esquz

GT3:

silkie
Team 4:
Fukaru Racing (Classic Black, Crew Red. Frost White Wheels. Optional White Neons)
GT1:

jsantospt

GT2:

OhHiMarc

GT3:

MindlessRiff
Team 5:
Junk Racing (Custom Orange Crew color, Red/Black Wheels)
GT1:

The Hunter

GT2:

imfishy

GT3:

p4uliii
Team 6:
Dynasty 8 Motorsports (Metallic Frost White, Crew Color (Dew Yellow), Bright Green Pearlescent, Green Wheels)
GT1:

-J3rry-Acinonyx-

GT2:

sorophx

GT3:

Divait
Team 7:
Pfister Motorsports (Primary Ice White, Secondary Silver, Red Wheels)
GT1:

ramka1976

GT2:

D.Shostakovich

GT3:

FiveDownActual
Team 8:
Vom Feuer Motorsports (Matte Forest Green Primary, Matte Foliage Green Secondary, Dark Copper Wheels)
GT1:

Mistarr

GT2:

Marvinat0r

GT3:

st0cking
Team 9:
FlyUS (Matte White Primary, Matte Blue Secondary, Red Wheels)
GT1:

LukasLRG.

GT2:

The_Bad_Loser

GT3:

jawn