Post by endersai on Jul 5, 2017 1:17:03 GMT
CROWEX™ 2017 SAN ANDREAS GRAND TOURING CHAMPIONSHIP SEASON 7 (formerly: SATCC)
logo by

Grumples_Plox (grimreaper977)
Los Santos, SAN ANDREAS: Swiss watchmaker Crowex today announced its continued sponsorship of the popular GT racing series. Crowex will act as official timekeeper of the race, as well as providing well crafted and overpriced chronographs to drivers
Event host:
Endersai
Session Host
: Oh_Darn (because Australian interwebs)
Participants
: Min 24, Max 28
Safety Car Driver/Pit Watcher
: Endersai
Weather
: Always set to "current"
Time of Day
: Always set to "noon" (except night races marked with an "N")
Dates
: Race season starts Friday 18 August 2017 at 9pm UTC.
Cars
Cars can be taken from the list below. SAGTC is built off a diverse field, and not from everyone racing the same car.
Note:
Any cars marked with a * are subjected to balance of performance (BoP) downgrades.
Progen Itali GTB (Engine 4/Transmission 4/No Turbo)*
Grotti Turismo R (Engine 4/Transmission 4/No Turbo)*
Vapid FMJ (Engine 3/Transmission 4/No Turbo)*
Overflod Entity XF (Engine 4/Transmission 4/No Turbo)*
Pegassi Reaper (Engine 4/Transmission 4/Turbo)
Emperor ETR-1 (Engine 4/Transmission 4/Turbo)
Changing Cars:
During the "mid season break", teams may switch cars. Doing so involves taking a penalty, in which you start from the pit lane.
This qualifies as a penalty for the purposes of the "white card" rules (explained below).
A driver
may not change their car
for the last race for "fun" unless a majority of drivers have approved the decision in the thread beforehand. Just because you might have reached your season goal doesn't mean they have, and you need to consider the impact to them as well.
RACING RULES:

1) Cars must be one of the prescribed chassis above. Other cars may be considered, provided they are
not
one of the following: Pegassi Tempesta; Pegassi Zentorno; Pegassi Osiris; Annis RE-7B; Progen T20; Grotti X80; Pfister 811; Truffade Nero and Nero Custom; Dewbauchee Vagner; Ocelot XA-21; Coil Rocket Voltic
2) Cars with a * symbol will be subjected to mandatory downgrades. Those downgrades are enforced on gentleman's (or ladies') agreement.
3) Cars must race in a team of two drivers. Teams must have a principal sponsor – either as a factory team or with sponsorship by a major business in the GTA Universe: gta.wikia.com/Businesses_in_GTA_V
a. Teams cannot share primary sponsors
b. Teams
may
run inverse colour schemes for their drivers. For example, if Progen run factory Black and Orange colours, then Car 1 would be orange primary black secondary; Car 2 would be black primary, orange secondary. For a visual example, see
this link
.
c. For ETR-1 and 900R teams, liveries will be heavily restricted so as to keep the cars consistent in appearance with the rest of the field.
4) Teams should run one of the following categories of tyre only – Tuner, Sport, High-End, SUV. All other categories are prohibited.
a. Tyres must be "custom", showing the Atomic logo
5) Teams may run all other upgrades, including armour, engine, suspension and brakes. The extent to which these are employed are at team discretion and as favoured by individual drivers.
6) Race starts will be
on a sticky bomb
that detonates after the time nominated by the safety car driver.
7) Where a circuit has a pit stop facility, each driver must make one pitstops per bloc of ten laps. For example, a 15 lap race would be 2 blocs of ten laps (laps 1-10, 11-15) and require two stops. A 25 lap race would be 3 pitstops. Pits
must
be called out as you take them.
a. The pit lane will be open after 20% of race distance has been completed. Endersai will advise before the race the RACE LAP in which the pits are accessible. Note; a formation lap does not count.
b. A pitstop is not defined by time spent stopping and going, but rather a pass through the pit lane. For this reason, a pitstop
cannot
be on the last lap of a race where the driver would not be at full speed when they cross the finish line. For the avoidance of doubt, Endersai will clarify if the pits ARE open on the last lap of a race prior to the race commencing.
c. For stunt races: drivers must respawn on secondary checkpoints. They MUST come to a complete stop before their car respawns.
d. Drivers rejoining the track must take care to avoid causing an incident; they should assume drivers on track have right of way.
8) Where a driver is at fault for a collision involving one or more other cars, they are expected to wait as per NoDO crew guidelines. This includes where lag is a factor; what you see on your screen is not what others saw. Please respect this.
9) If any incident occurs where 3 or more cars are involved in a collision or a driver disconnects,
full course yellow
flags will be waved (FCY). Full course yellows require the pack to slowdown, maintain distance to one another, and not overtake anyone. Once FCY have been declared, the
safety car
(SC) will be deployed and pick up the pack. The SC regulates the race's pace and confirms that no danger remains. The SC will then indicate its return to pits, and from the entry to the nominated safety car line, the race leader controls the pace.
a. During a FCY or SC, overtaking is forbidden except where driver error causes a loss of position
b. Pitting under SC is
not
allowed
10) Communication is via TeamSpeak.
11) Racing lines, overtaking, and weaving/defending - for avoidance of doubt we fully use FIA F1 rules here. For the purposes of cornering, an overtake is done when the front wheels of the attacking car are in line with the rear wheels of the defending car.
Rules links -
www.fia.com/regulations/regulation/fia-formula-one-world-championship-110
f1metrics.wordpress.com/2014/08/28/the-rules-of-racing/
12) Players are required to cap their games at 60FPS so as to avoid advantages from FPS boosts.
13) The primary attributes of a good SAGTC driver are reliability and attitude. Being an unpleasant, rude, angry or negative person who happens to be faster than light is not enough to get you a seat in the event. Being a good person who shows us, is. Continuing this thinking on, you should
always show respect for other drivers at all times, even if they aren't showing you respect
. We will deal with issues as they arise.
a. In the event commentary turns angry and personal, a drive-through penalty will be awarded by Endersai. It must be served within 3 laps.
White cards

14) Drivers are issued with two White Cards during the course of the season. Each driver must elect to drop 2 scores over the course of the season. Scores are dropped by playing a "white card". The scores can only be dropped from the race/s that has/have just been completed. The cards cannot be used for races before the most recent one; nor can drivers vary their choices once they have made them. Should drivers not, by season's end, have nominated their two dropped scores then we will drop firstly the highest, and then lowest, scoring positions.
a. White cards cannot be used for races where the driver is serving a penalty.
15) The use of any mods or trainers in the event, including for practice, will result in a disqualification for the whole team.
16) Curb boosting/surfing - the practice of attaining speed boosts by mounting a curb or similar multiple times - is banned. As a general rule, curb boosting is one curb = one boost.
This also applies to ripple strips, which are considered curbs.
a. On tracks where the surface is mostly or exclusively Stunt Prop pieces (i.e. Monza, Pillbox Hill GP), the race organisers will provide guidance around exceptions before the race. This guidance will be specific to the circuit.
b. Wall boosts are considered to be a curb boost under the above rules.
Points
Points are awarded as follows:
1st 25pts
2nd 20pts
3rd 18pts
4th 16pts
5th 14pts
6th 12pts
7th 10pts
8th 8pts
9th 6pts
10th 4pts
11th 2pts
12th 1pt
If drivers are tied on points, positions are decided on results countback. Wins are compared, and the driver with most wins is classified ahead. If wins are equal, second places are looked at, and so on.
Grids


Races 1 and 2 will be fully randomised grids. Race 3 will take the top 12 positions from race 1, and reverse those for the race. Positions 13-28 will start in the order they finished.
Race 4 will take the result of race 2 as a basis, and so on. All odd race results will determine the start of the next odd race; all even race results will determine the results of the next even race.
Example:

RacerX finishes P1 in race 1, and P15 in race 2. RacerX starts race 3 in P12 (reverse of Race 1 results) and P15 in race 4 (>12th place, so start in order they finished
.
This helps to manage strategies for the team before the race weekend.
The Strategy Group


The strategy group is an advisory group who advise on the operation of the event by discussing rules decisions or any other key discussions.
To enhance transparency, a member of the strategy group will be responsible for communicating the Group's decision to the thread. This includes where the Group disagreed with the event host and were overruled.
Members of the group can also act as advocates for drivers concerns. The members for Season 7 are:
Endersai
The_Bad_Loser
Firefly
FriendlyBaron
OvivoJR
Tspoon
Tonyborbony
CALENDARFriday 18 August - Pre-season testing - Chaps Raceway


Friday 1 September - Races 1 and 2 -
Exit 4a
and
Montreal 2017
Friday 8 September - Races 3 and 4 -
Annis' Laguna Seca
and
McKenzie Deluxe
Friday 15 September - Break

Friday 22 September* - Races 5 and 6 -
Blaine County North West
and S
pa Short
Friday 29 September - Races 7 and 8 -
Sandy Steep Banks
and
Fever Pitch
(N)
Friday 6 October - Mid-Season Break

Friday 20 October - Races 9 and 10 -
Hill Ary's Clinton
(N) and
Monza
Friday 27 October - Races 11 and 12 -
Sandy Shores GP
and
Grotti F1 Zan Cudochamps
Friday 3 November - Break

Friday 10 November* - Races 13 and 14 -
Cluckin' Bell
and
Morningwood GP
Friday 17 November* - Races 15 and 16 -
Del Perro GP
(N) and
On the YARN
N = Night race
TEAMSSubmission


Submission does not guarantee participation. We will be looking for people to attend SAGTC based on what they've shown in NoDo to date, including in past SAGTC/SATCC seasons. Attitude is the most important quality, not speed.
When signing up, please note:
i. your 3 preferred cars in order,
ii. your team (and teammates if applicable)
iii. your driver number.
Driver #1 is reserved for the defending champion.
The safety car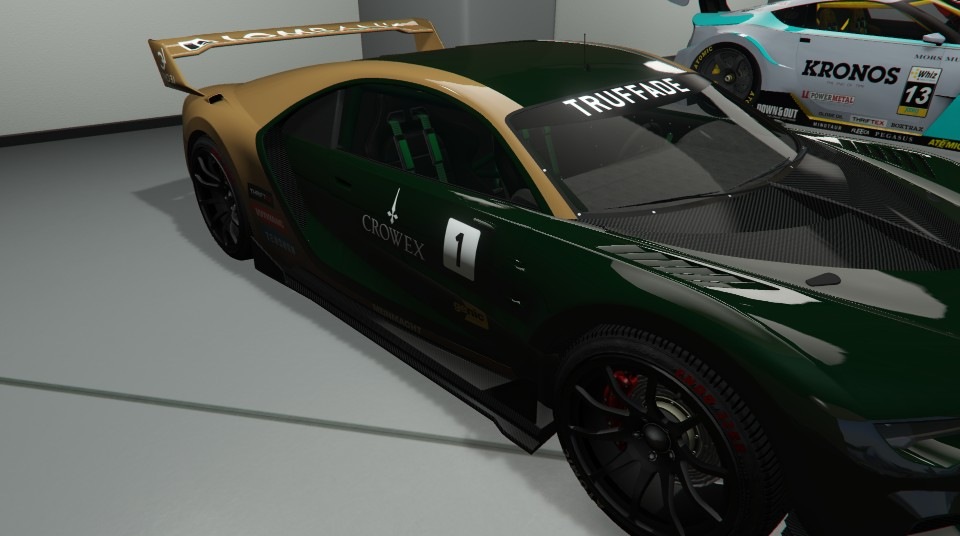 Title sponsor Crowex have provided a branded Truffade Nero Custom as the Season 7 safety car.
Participants (13/14)
Augury Insurance driving a Progen Itali GTB in minty fresh!
03. @zenvohh (GBR)
13.
Grumples_Plox (grimreaper977)
(GBR)
Progen GT Racing
driving a Progen Itali GTB in orange and black
22.
michiski22
(BEL)
54.
Superstepa_
(EST)
Team Principal: Endersai (AUS)
Team Junk Energy Racing
driving a Vapid FMJ in crew orange
23.
imfishy
(GER)
85.
silkie
(BEL)
Dynasty 8 Motorsports
driving a <TBC>
21.
beta1hit
(GER)
77.
-J3rry-Acinonyx-
(GER)
Avian Autosports
driving a Grotti Turismo R in black steel and dew yellow
15.
detectivesalmon
(GBR)
39.
Bezerka3
(GBR)
Pride Brew Crew
driving a Vapid FMJ in crew brown
97.
obihoernchen
(GER)
96.
p4uliii
(GER)
Vapid Motorsports
driving a Vapid FMJ in metallic blue and cabernet red
19.
positivetension
(GBR)
17.
mountainged
(IRE)
Overflod Autosports driving an Overflod Entity XF in metallic blue and orange
92.
Countach
(NOR)
55.
MindlessRiff
(GBR)
Xero Gas Racing
driving a Vapid FMJ in crew blue and white
42.
piguy3141
(USA)
53.
SteveJEWBZ
(USA)
GoPostal Racing driving a Progen Itali GTB in white, blue and red
11.
key
(POL)
74.
esquz
(SWE)
Weazel News Racing driving a Grotti Cheetah in secret grey
28.
Tspoon
(USA)
XX.
jsantospt
(PRT)
Devin Weston Racing Team driving a Vapid FMJ in silver and blue.
31.
Divait
(RUS)
69.
Zetmir
(UKR)
Team Principal:
Benimi
Debonaire Racing Team driving a Grotti Turismo R in black and crew blue
05.
FiveDownActual
(USA)
16.
Tsupernami
(GBR)

FlyUS Scoreboard
SAGTC HALL OF FAME:

Season 1
Constructor's Champions: Benefactor Motorsports (OvivoJR, fab.ICEMAN)
Driver's Champion: OvivoJR
Season 2
Constructor's Champions: Pfister Motorsports (Oh_Darn, Endersai)
Driver's Champion: Oh_Darn
Season 3
Constructor's Champions: Augury Insurance Motorsports (doompenguin, Grimreaper977)
Driver's Champion: doompenguin
Season 4
Constructor's Champions: Pfister Motorsports (OvivoJR, DNL_Jackson)
Driver's Champion: OvivoJR
Season 5
Constructor's Champions: Junk! Energy Racing (Oh_Darn, Grimreaper977)
Driver's Champion: fab.ICEMAN
Season 6
Constructor's Champions: Progen Racing Team (Oh_Darn, Cloudmcshort)
Driver's Champion: Oh_Darn